Professional Drivers: Dedicated to Safety and Giving Back
by Women In Trucking Staff, on Aug 25, 2021 10:58:29 AM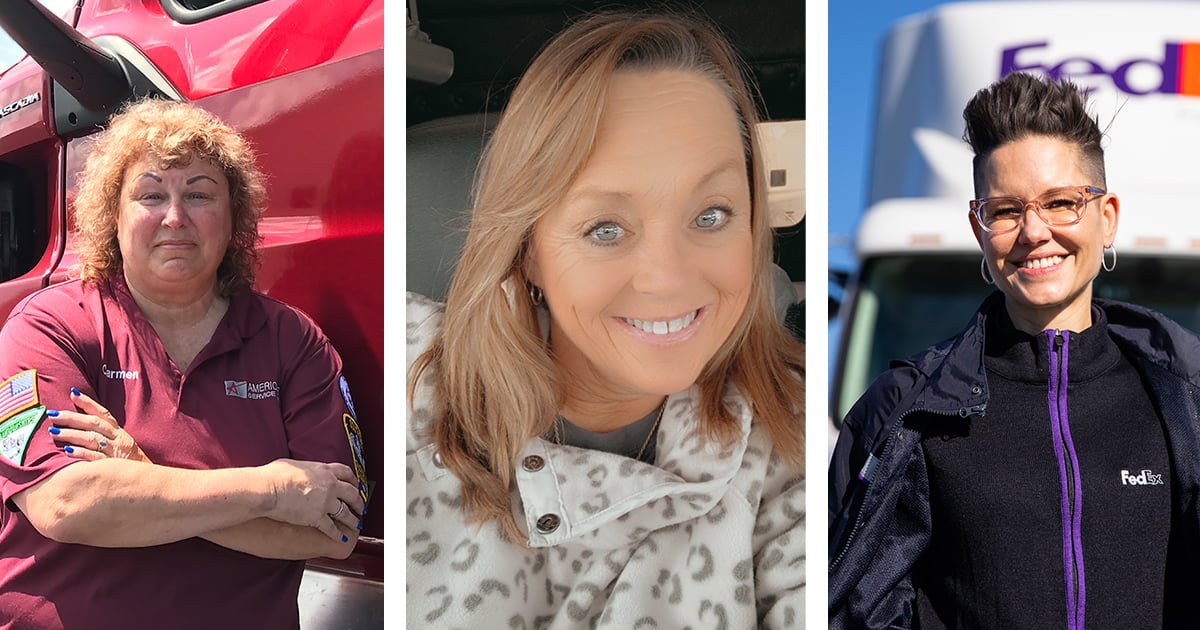 Many professional truck drivers go above and beyond their job descriptions, excelling at safety while also contributing to the trucking profession and their communities. A few in particular stand out. The 2021 Women In Trucking's Driver of the Year, Nikki Weaver, along with finalists Carmen Anderson and Ingrid Brown, exemplify the best of the many drivers who keep Americans supplied with the goods and materials they need.

Nikki Weaver of FedEx Freight
Weaver has demonstrated dedication, kindness, and initiative in the dozen years in which she's been driving for FedEx Freight, as well as 19-plus years on the road. Her record after driving more than two million miles is impressive: no accidents, no moving violations, and no citations.
"I am passionate about trucking and thankful for the opportunity to continue our important work during this time of crisis," says Weaver as she reflects on this last year's challenges created by the COVID pandemic. Weaver's dedication extends to others within her industry. She's shared her knowledge of trucking with students in driver's education classes, as well as with cadets at the Pennsylvania State Police Academy. Weaver also has represented women in trucking at many industry events and represented the needs of her fellow drivers at the FedEx Freight specification review.
Weaver worked with FedEx Freight to deliver a forklift to Bethesda Mission, a local organization that helps individuals facing hardship. "We at Bethesda Mission are thankful for both Nikki's involvement in feeding central Pennsylvania and demonstrating kindness," says Dave Hicks, the organization's Director of Operations. He adds that they'll think of Nikki every time they load a pallet of food onto the organization's vehicles.
Carmen Anderson of America's Service Line
A driver with America's Service Line, LLC, Carmen Anderson has driven for more than 24 years, logging 2.5 million miles with no accidents. Along the way, she has visited nearly every state in the U.S., as well as regions in Canada and Mexico. A dedicated advocate for trucking, Anderson has spoken about trucking careers to high school students and participated in a truck convoy for Special Olympics.
As a road team captain with the Wisconsin Motor Carriers Association's (WMCA) Wisconsin Road Team, Anderson "volunteers her time as a safety spokesperson" and used her communication skills to discuss how long-haul truck drivers are combating human trafficking, according to WMCA President, Neal Kedzie. "Carmen's dedication to her profession and willingness to volunteer her time for worthy causes when called upon earns my highest recommendation," he adds.
Ingrid Brown of Rollin' B
Brown traces her start in trucking to her father, who worked in construction. Through his career, she learned to drive trucks and other heavy equipment.
For three decades, Brown has been transporting a range of produce, livestock, agriculture and Christmas trees as one of the few women owner/operators with Rollin' B. She's also a company driver with Fleenor Bros. In nearly 42 years on the road, her record reflects zero accidents or moving violations.
Allan Rutter, division head within the Texas A&M Transportation Institute, praises Brown's "indefatigable good cheer in the midst of a rapidly changing environment" and her continued advocacy of trucking safety. Brown also has shared her challenges with cancer in an effort to encourage truckers to monitor their health and see their healthcare providers.
Each year, the Women In Trucking's Driver of the Year program, which is sponsored by Walmart, recognizes outstanding drivers who are creating positive impacts within the transportation industry.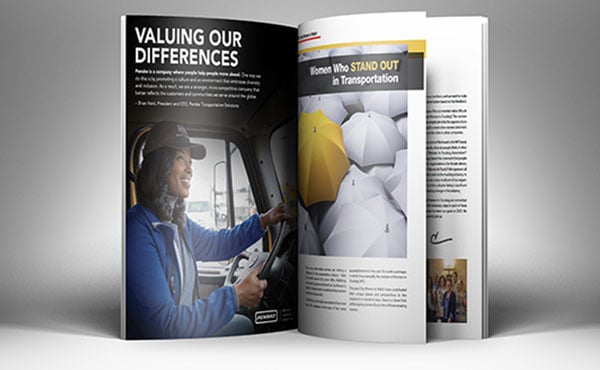 This article was originally featured in Edition 2 of 2021 in our official magazine, Redefining The Road.
Like this kind of content?
As a member of the Women In Trucking Association, stay on top of emerging trends and business issues impacting transportation, logistics, and supply chain operations, learn the importance of gender diversity in the workplace and the need for more women drivers, and see best practices in encouraging the employment of women in the trucking industry. Learn More