Rush Truck Centers – A Portfolio of Solutions
by Rush Truck Centers | Sponsored Content, on Nov 21, 2022 12:47:32 PM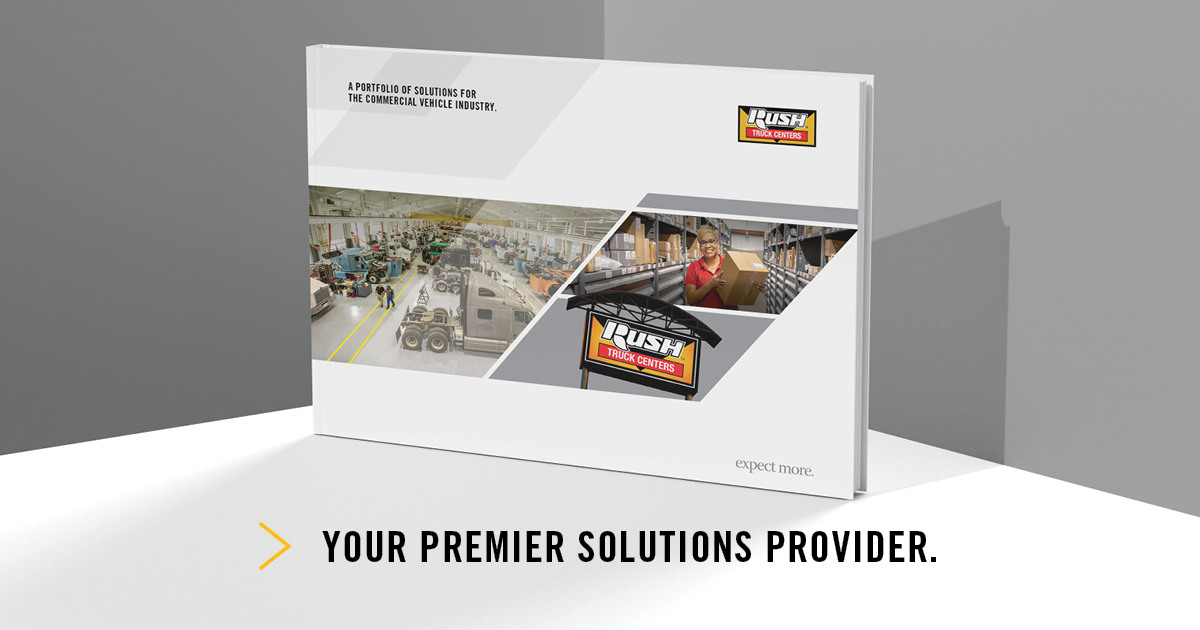 Rush Truck Centers is the premier solutions provider to the commercial vehicle industry and the largest network of commercial vehicle dealerships in the United States and Canada. With more than 140 locations nationwide and 15 in Canada, our truck centers are strategically located in high-traffic areas on or near major highways.
NO ONE OFFERS YOU MORE.
At Rush Truck Centers, our goal is to help you manage your fleet more effectively by offering products and services that work best for your business. We provide our customers an integrated, one-stop approach to the service and sales of new and used heavy- and medium-duty trucks, all-makes parts and service, collision repair and a range of financial services including financing, insurance and leasing and rental options. We also provide CNG fuel systems, telematics products and other vehicle technologies, as well as vehicle upfitting, chrome parts and accessories and tires.
From our unparalleled Service Concierge team to our online tools and service programs, we are dedicated to your complete satisfaction. Whether you need same-day preventive maintenance or mobile service, the convenience of online parts ordering or assistance from our knowledgeable parts agents, we're committed to being your total solutions provider.
TRUCK BRANDS.
Our customers demand the best, so we provide the best, from the solutions we offer to the industry-leading brands we represent, Peterbilt, International, Ford, Hino, Isuzu, Bluebird, Micro Bird, Collins Bus and IC Bus. From the quality of our facilities to the caliber of our people, we demonstrate every day our respect for the industries we serve.
SERVICE – ALL MAKES AND MODELS.
At Rush Truck Centers, we approach service differently. Our goal is to increase your uptime and lower your operating costs. Our complete maintenance solutions for all makes and models of commercial vehicles are designed to do just that.
ALL-MAKES PARTS.
Rush Truck Centers offers a breadth of product unmatched in the industry, including $300 million in genuine OEM and all-makes replacement parts from the industry's leading component manufacturers. We stock the quality brands you know and trust.
COLLISION CENTERS.
Rush Truck Centers operates 30 state-of-the-art collision centers across our nationwide network. All facilities are equipped to work on both heavy- and medium-duty trucks, buses and commercial vehicles, no matter the make or model.
VEHICLE UPFITTING AND CUSTOMIZATION SOLUTIONS.
As an all-makes provider of truck accessories, equipment and bodies for heavy-, medium- and light-duty vehicles, Custom Vehicle Solutions® and Perfection Truck Parts & Equipment™ provide custom installation, parts and service for refuse, on-highway, construction, oilfield, delivery, contractors, towing and more.
ELECTRIC VEHICLES.
It is only natural that we'd take the lead in the fostering and advancement of the emerging electric commercial vehicle market. We continue to invest in technician training and shop tooling to enable us to provide service and repair support for our customers who operate electric vehicles. Our parts experts will also receive the training they need to ensure they can quickly and effectively identify and source the parts needed to keep you up and running.
LOCATIONS.
Rush Truck Centers has more than 140 locations across the country, so we can serve customers virtually anywhere they operate with convenient curbside pickup, delivery or shipping options. Find a location near you.
For more information, please visit rushtruckcenters.com, rushenterprises.com, Twitter @rushtruckcenter and Facebook.com/rushtruckcenters.