Taking Risks and Amplifying Your Voice in the Workplace
by Brooke Vasquez, PACCAR Parts | Sponsored Content, on Feb 13, 2023 11:40:48 AM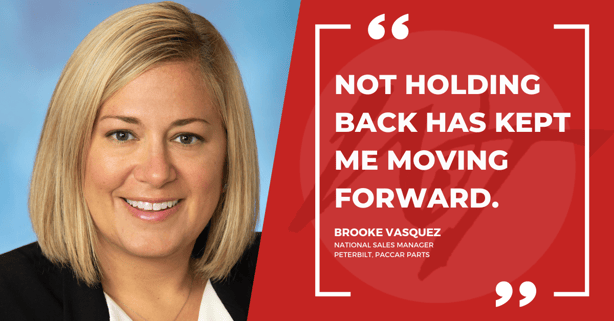 Each day we make decisions that impact our career. For a woman in a male-populated industry, stepping outside your comfort zone, trying something new or addressing an unfamiliar subject can often feel daunting, challenging or uncertain. But as the old adage goes, with risk comes reward. Knowing where and when to take a risk or raise your voice in the workplace can be empowering and, over time, uncover growth opportunities.
Since joining PACCAR Parts in 2005, I've had ample opportunity to put myself out there. The first time I applied for a management position was just 18 months into my career. It may have felt like a long shot, but I raised my hand. To this day, I'm glad I did, because that decision, and many just like it, have set the tone for a challenging and rewarding career.
Many women hesitate to apply for a role because they don't feel they are qualified. They may look at a job description and think they need to hit one hundred percent of the listed requirements, that they don't have an appropriate skill set, or that they haven't been in the profession or industry long enough. My advice is to look beyond your current skillset, trust in your ability, and have confidence that you can learn and grow into a role. Know that people will help you reach your potential.
I welcomed the opportunity to lead PACCAR Parts' Operations team in Europe despite the risks and uncertainties involved. Leaving behind my support system, building a new network within a different culture and moving my family were all important considerations. The turning points in my career have been defined by when I've felt empowered to seize opportunities. Leading with a curious mentality and trusting in my abilities has led me to where I am today.
Ultimately, my move to Europe was an enriching experience that spurred my career progress even further. I was asked to shift gears from operations to marketing and eventually to where I am now in sales upon completion of my European assignment. In moments of doubt, I chose to trust my industry knowledge and my experience with PACCAR to have confidence in my solid, seasoned foundation and a strong team to support the transition.
Gradually increasing how often I spoke up has helped with hesitancy. When I first began my career, I made a goal to speak up in every meeting. The more I pushed my boundaries, the more confident I became. Elevating your voice in the workplace can feel unnatural and challenging at times. Career experience and professional mentors showed me that I can have both strong messaging and a soft voice to give direction and get results. This also taught me an important managerial lesson: Everyone has different communication styles, and the focus should be on how best to reach them.
Now, if I see someone struggling or shying away from raising their voice, I encourage them to speak. Saying their name in a meeting and asking them for ideas or opinions can spark confidence. Be aware of people trying to interject or speak over them. Tactically help pull all your teammates into discussions and give them the floor.
Taking risks and speaking up in the workplace can bring professional rewards and a sense of self-assurance. It allows me to be my authentic self, build genuine relationships and brings greater career fulfillment. Not holding back has kept me moving forward.
About Brooke Vasquez
Brooke is national sales manager – Peterbilt at PACCAR Parts. She joined PACCAR in 2005. She oversees and directs Peterbilt sales activities to achieve PACCAR Parts' sales and profit objectives. Prior to her role in sales, Brooke held roles of increasing responsibility in operations and marketing, including materials director for PACCAR Parts North America, director of operations for PACCAR Parts Europe and senior director of marketing at PACCAR Parts.
Like this kind of content?

As a member of the Women In Trucking Association, stay on top of emerging trends and business issues impacting transportation, logistics, and supply chain operations, learn the importance of gender diversity in the workplace and the need for more women drivers, and see best practices in encouraging the employment of women in the trucking industry. Learn More