The Story of Clare, the Truck Driver Doll, a Series of Coincidences
by Ellen Voie, on May 2, 2023 8:46:29 PM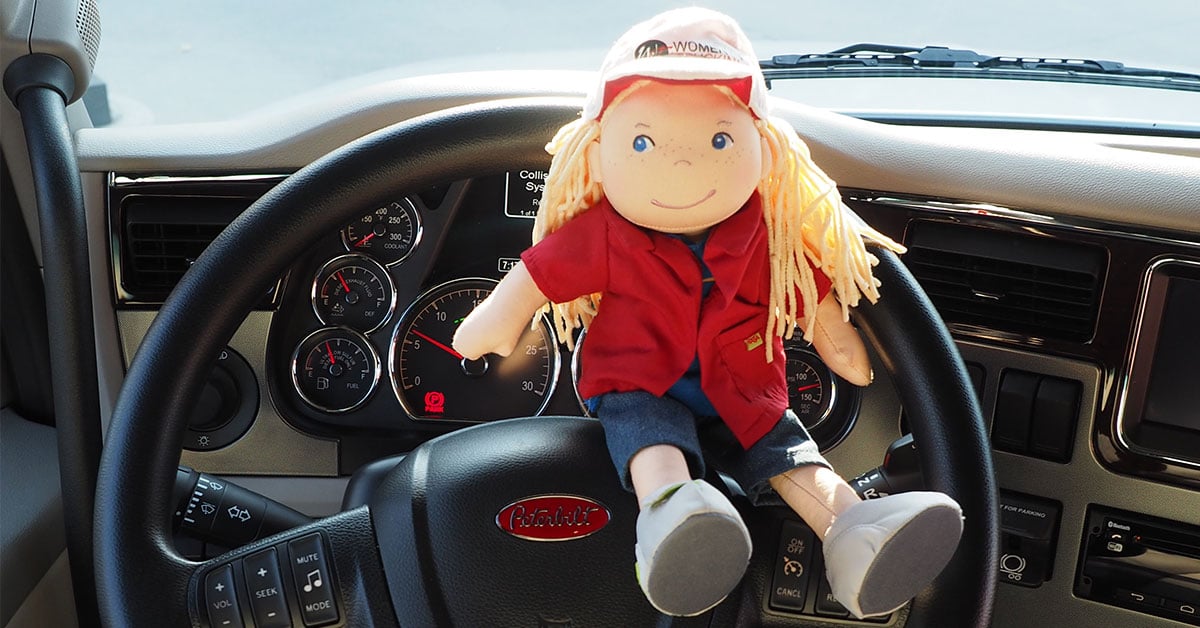 The Women In Trucking Association was searching for ways to reach the next generation to introduce them to careers in transportation. The idea of a doll was considered, and we reached out to Mattel to see if we could get a truck driver Barbie doll.
Since the original 1959 Barbie, they have given her over 250 careers and have given her many body types, skin tones and disabilities. Barbie's careers include a veterinarian, a doctor and even a gymnast and ballerina. However, Mattel wasn't interested in expanding their doll to include a role in the trucking industry.
One evening, while sitting in the Sky Club lounge in the Minneapolis airport, I began chatting with a woman sitting near me. I commented on her shoes as they were stylish, but they looked comfortable. She responded by telling me she spent a lot of time on her feet while attending trade shows. The conversation initiated the first coincidence.
As a trade show exhibitor, myself, I asked her what type of events she attended, and her response surprised me. "I'm the president of a toy manufacturer," she said. That's all it took for me to pursue a truck driver doll and the deal was sealed within minutes. We created Clare, the truck driver doll with HABA toys.
We were able to choose her clothing (jeans and jacket with a white t-shirt and a ball cap over her long blond hair) and to include our logos and the "I Heart Trucking," slogan on her shirt. We ordered 3,000 dolls! The box told the story of her training at the National Transportation Center, our partner in the project.
Why was she called Clare? It was a personal connection that spanned five generations. My great grandmother's name was Clara, so my middle name is Clare in her honor. My granddaughter was given my middle name as well, so we decided to give the doll the name Clare to keep the momentum!
The dolls were a hit, and many Girl Scout Troops ordered them for their events they held for the girls to earn a patch in supply chain management. An accompanying activity book called, "Scouting for Cookies," was published to add to the curriculum.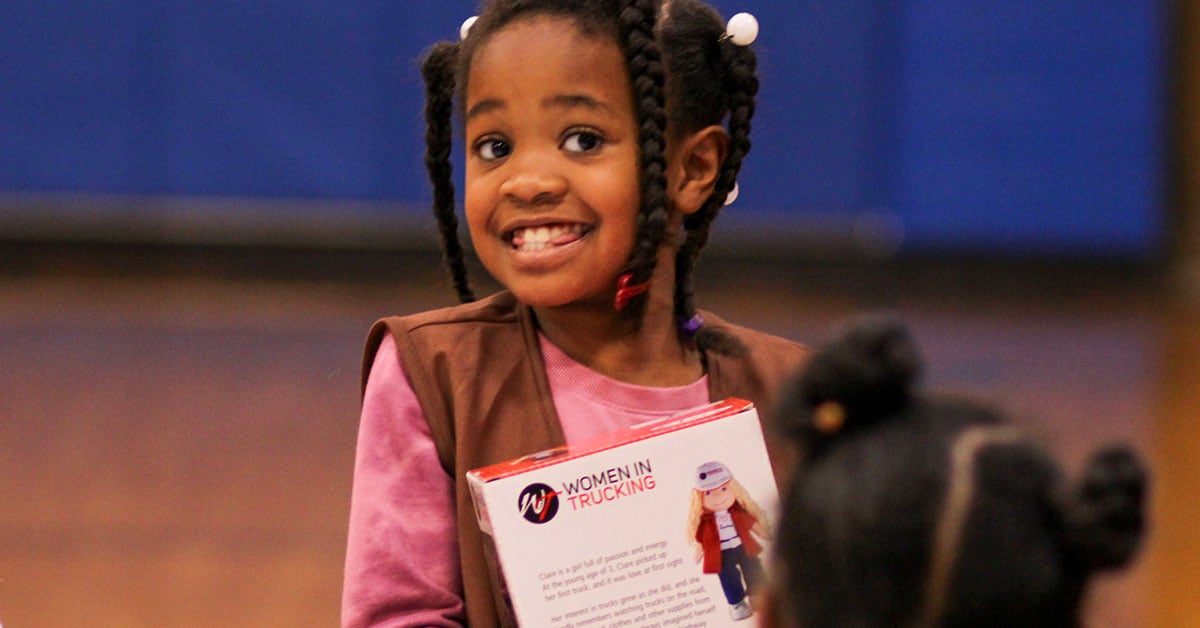 A Facebook page was created to allow drivers to post photos of Clare during their travels. "Where's Clare" was the slogan to follow Clare as she delivered her loads, did her pre-trip inspection, and even visited the truck stop. Drivers bought clothing for her and included her on their family vacations.
Clare accompanied me to events and had her photo taken with the FMCSA Administrator, Legislators, and even the Secretary of Transportation, Elaine Chao. Parents bought her as gifts for their children and grandchildren, and companies gave them away as gifts and promotional items. The Pennsylvania Motor Trucking Association gave away dolls when a member could identify where her photo was taken within the state.
The original goal was to start the series with a truck driver doll and then expand to other occupations and to include more ethnicities. A Hispanic diesel technician and an African American safety director were on the list.
However, the doll began and ended with Clare, as the minimum order of 3,000 took years to sell and the warehousing and shipping became costly. I stored the pallets of dolls in my shed and as they shipped out, I put the UPS label on them and sent them on their way.
This is where the story ends with one more coincidence. My UPS driver has been picking up cases of dolls for the past few years. He knew what was in the boxes, but he didn't know the story of Clare.
As we were shipping out the last few cases, it occurred to me to show him the doll. I asked him if he had a granddaughter. He smiled and told me his daughter had recently had a baby girl, his first grandchild. I handed him a box and told him to give the doll to his new granddaughter.
When he saw the doll, he abruptly stopped as he read the name on the box. I was truly shocked at this coincidence. He told me his new granddaughter's name is…Clare. Yes, even the spelling was the same.
My UPS driver gave his new grandbaby her very first doll, one that shares her name! Maybe it's a sign and she'll be a truck driver some day! It might be one more coincidence.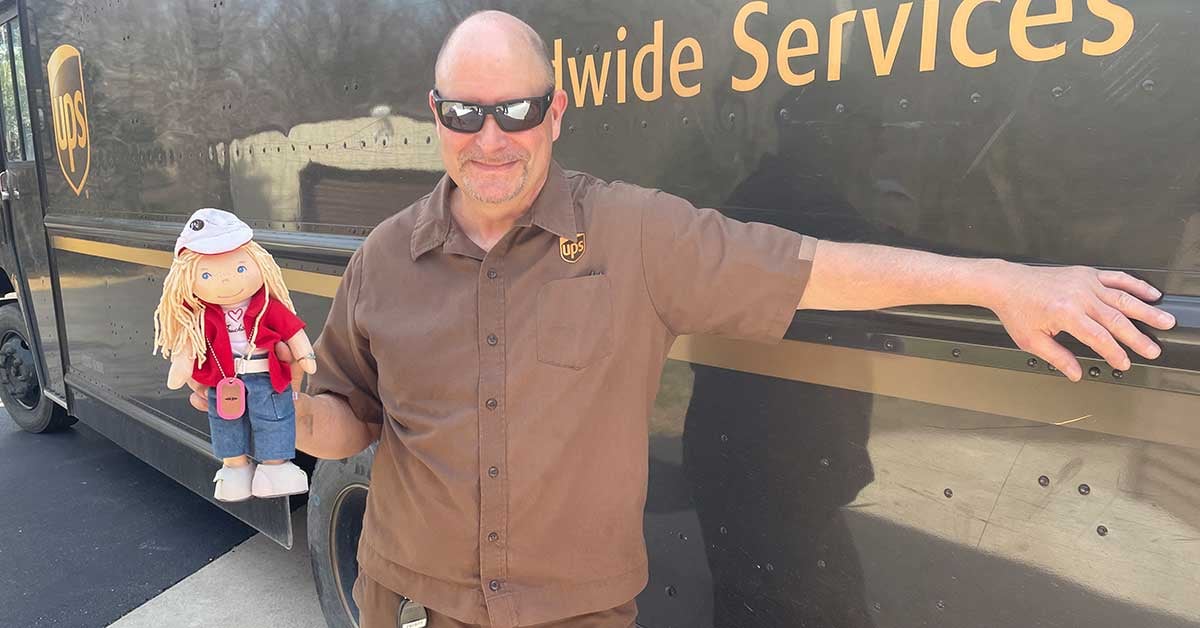 Like this kind of content?

As a member of the Women In Trucking Association, stay on top of emerging trends and business issues impacting transportation and logistics; learn the importance of gender diversity in the workplace and the need for more women drivers; and see best practices in encouraging the employment of women in the trucking industry. Join today! Learn More