A Woman's Guide to Concealed Carry
by Fran Bernard, on Dec 27, 2022 4:52:35 PM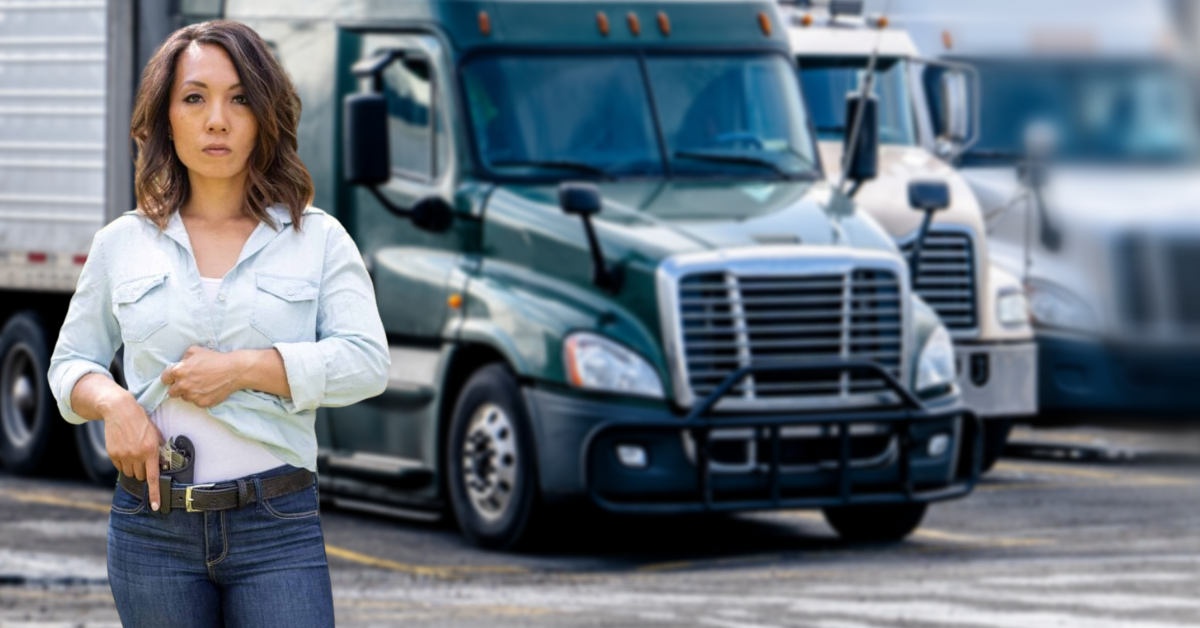 One third of new gun buyers last year were women. Self-defense is the number one reason that women are taking the gun industry by storm. Whether it is to feel safe and sound when traveling alone in less than safe areas, or to feel more confident and safer if put into a life-or-death situation, there are many reasons to take advantage of your second amendment rights and the concealed carry law.
Knowing that you have the means to protect yourself, in the event you need to, is a secure feeling. Most people don't go out looking for trouble. However, you need to be trained and prepared in case it comes looking for you. With proper training you will be in a better position to defend yourself and others.
As you prepare yourself and your truck to head out with a load, you conduct your pre-trip so that you know that your truck is safe and secure. It is the same premise when you train and get a commercial carry permit. Concealed carry is a big decision that must be taken very seriously. To ensure you know how to use your firearm safely and that you are confident and competent in using it, you must complete proper training, and really, your training never stops. You should be very persistent in training and practicing whenever you can so that you will become proficient. You will learn how to operate a handgun, but your circumstances could change instantly. So, your training should be forever. All your skills are perishable without practicing continually and consistently on safety, shooting, drawing from concealment, and a defensive mindset.
Although safety is stressed the most, training and mindset are also very critical aspects of concealed carry as well. You must be able to exercise good judgment in a stressful situation. Being a proficient shooter is only half the equation, if you don't have the right mindset, you could potentially have a problem. Practice, practice, practice. Train your mind as much as you train with your firearm.
Where Do I Start?
You must first obtain a permit or license in your state. Getting a permit is a good idea, even if your state falls under a constitutional carry law. This way a permit in your home state might give you the opportunity to carry in other states. When it comes to concealed carry, it is always better to be safe than sorry.
You will find that the specific laws vary from state-to-state, which you must be very mindful of if you need or wish to cross state lines with your legally licensed firearm.
Your driver's license is a state-issued document that certifies you are both capable and legally allowed to drive a car. That license isn't invalidated when crossing state lines, as you are still capable and legally certified to operate your vehicle. Having a driver's license for driving – which is a privilege, not a right – allows you to drive from state to state. There is a bill offering the same ideology for concealed carries according to Rep. Richard Hudson:
My bill is a simple, commonsense solution – it will affirm that law-abiding citizens who are qualified to carry concealed firearms in one state can also carry in other states that allow residents to do so."
-Rep. Richard Hudson (R-NC)
At the end of the day, this is about ensuring the safety and security of the American people while enacting commonsense regulations to standardize cross-state carry reciprocity. Self-defense is a fundamental right, and it was the Supreme Court that ruled that "the inherent right of self-defense has been central to the Second Amendment right," which is, "the individual right to possess and carry weapons in case of confrontation."
PASSED: The Concealed Carry Reciprocity Act of 2017 (gop.gov)
You Should Know Your Employer's Firearm Policy
Check with your employer and see what their policy is on this matter. They may have a company policy handbook that may have a section on firearms. If the handbook doesn't specify, ask your employer about their policies on carrying firearms. You should check and learn the exact rules your employer has before learning all the details of how to transport, carry, or conceal firearms across state lines as a commercial driver.
Can You Carry a Gun in a Commercial Vehicle?
There are no federal regulations on carrying a firearm in a commercial vehicle. Whether or not you have a concealed weapons license/permit does not matter. The laws of the state in which you are driving determines the ability for you to carry a firearm in your commercial vehicle.
Any good commercial truck driver's priority is to be safe. That's why you maintain an excellent driving record and do a pre-trip inspection. Carrying a firearm in your truck is also an option for protecting yourself and your load.
The basic rule for drivers carrying firearms is that they are kept out of reach of both the driver and the passengers. This might mean being in the trunk, or inside a hard locked container. It must be unloaded and away from any ammunition.
Title 18 U.S.C. § 926A. Interstate transportation of firearms
18 USC 926 - Interstate transportation of firearms (govregs.com)
There are also concealed carry permits which allows individuals to carry a loaded firearm for easy access. Being a trucker with this capability makes it a little harder to keep track. According to the Department of Transportation on the matter, "carrying concealed weapons is a matter of state law. Your question can best be answered by the appropriate state government." Knowledge is safety, the more you know about what you can and can`t do, the better off you are. There are many useful resources to check to see if your gun permit is legal in whatever state you are planning on traveling through, such as permits honored by state:
Truck Drivers' Gun Rights By State (cdllife.com)
Constitutional Carry
Constitutional carry is not the same as permit reciprocity. Under constitutional carry legislation, a person who legally owns a firearm may carry it in public, visibly or concealed, at almost any time or place, without training, registration, or government licensing. First and foremost, you must be legally allowed to carry a firearm under state law. Age, criminal history, location, residency, and other restrictions may still apply. Constitutional carry also has been called "unrestricted carry" and "permitless carry." tallahassee.com
If you have a valid recognized permit there would be fewer restrictions than carrying under constitutional carry.
The Perfect Weapon
There is no perfect weapon. No firearm is suitable for everyone. The good thing is that you have many choices. Semi-Automatic pistols have more capacity and versatility. Revolvers are typically easier to conceal and handle with smaller hands. Having a small gun is not always the best choice. Many small guns tend to have a strong recoil but are less accurate. So, it might be better to have a little larger weapon. You may consider a larger gun that's chambered in a smaller caliber. The largest firearm you feel comfortable with carrying would be the best choice.
A great way to see what type of firearm you will feel comfortable with is to practice at a gun range with different types of guns. This way, you can expose yourself to a variety of firearms and choose what feels the most suitable and safe. Buying a gun that is a good fit in your hand is very important. When your handgun is a good fit, you can:
Reach the trigger properly without pulling or pushing the trigger while shooting
Be able to properly manipulate your firearm
Load and Unload
Grip your firearm properly
Compact and sub-compact firearms are typically best for concealed carry.
Safety and persistence are key to using your weapon. The benefits alone are well worth your training. The feeling of being able to defend yourself, having confidence, mindset, and safety are so important.
Safety and training are the most important parts in all of this. You need training from an experienced firearm instructor to know how to shoot and how you will react at any given time with your gun. Sign up for classes, and/or join a women's shooting club.
Many Concealed Carry Accessories Available for Women
If you are looking for a holster, try to balance two elements: comfort and safety. If it is uncomfortable the safety of your holster won't matter because you won't wear it. You need a heavy duty conceal carry belt that is strong enough to hold your holster with your firearm in it. Gun holsters come in all shapes and sizes. If you are seeking a holster, be sure to try out all different kinds. There will be one that fits you better than others whether it be a belly band, a corset, a hip holster, or an ankle holster. There will be one that fits your needs, and you are comfortable wearing. No matter where you prefer to carry your gun, your belly, hip, leg or your back, there is a holster for you.

Today there is also a growing selection of concealed carry accessories for women. There are concealed carry purses, sling bags, backpacks, satchels, hip bags, and fanny packs. Most all have special pockets built in to keep your weapon safely stored and out of sight. Keep in mind that when you are off body carrying your draw time is always going to be slower than on body carry. You must always be aware of where your weapon is at all times. You can't set your purse on the chair or in a grocery cart and walk away. When you have your firearm with you, it must stay with you.
Women Lead in Obtaining Concealed Carry Permits
The National Rifle Association, (NRA), states that women now make up the fastest growing demographic of gun owners. Knowing that so many women are getting their certifications to carry concealed weapons makes us all more safe and secure. Their primary reasons are for personal safety and to be able to protect their loved ones. They are thinking of self-defense and because of that are getting professional training to use them safely and confidently. Always keep in mind that guns are to be respected not feared.

According to the National Carry Academy (NCA), "The number of women taking concealed carry courses through the NCA is up 24% since the mass shooting at a high school in Parkland, Florida on February 14." The NCA further notes that "historically, men have received 66% of all concealed carry permits issued through the NCA. Since the Parkland shooting, half of all enrollees to the course are women." They add that since the shooting, "the number of permits issued for all Americans to carry a concealed weapon through the National Carry Academy has jumped about 120%"
EXCLUSIVE: The Daily Wire Speaks With National Carry Academy CEO Chris Schutrop About The Uptick In Women's Gun Interest | The Daily Wire
National Instant Criminal Background Checks System (NICS) Checks Up on "Black Friday" 2022
WASHINGTON, D.C. — National Shooting Sports Foundation, NSSF®, The Firearm Industry Trade Association, revealed that the FBI's National Instant Criminal Background Checks System (NICS) completed 711,372 background checks for the purchase of a firearm at retail during the week leading up to and including Black Friday. FBI's NICS recorded 192,749 background checks on Black Friday alone, ranking it third in the Top 10 Highest Days for NICS checks and a 2.8 percent increase from Black Friday 2021, when 187,585 background checks were completed. The NICS checks are unadjusted, representing raw data from the FBI and are inclusive of all background checks related to firearms.
'Black Friday' NICS Checks Tick Up in 2022 • NSSF
Where Do I Go from Here?
The world is changing; women are taking on more responsibility for their own safety. The more you can practice, the more competent, comfortable, and confident you will feel. Consistent practice with proper instruction boosts confidence and reduces self-doubt. Once you feel comfortable with your shooting, you can build on self-defense skills.
Always remember that as a gun owner you are responsible to do all the necessary research. Check with your employer, know your state's laws, review federal guidelines, and always have the proper paperwork available. Lack of knowledge is not a defense. Stay safe.

Like this kind of content?
As a member of the Women In Trucking Association, stay on top of emerging trends and business issues impacting transportation, logistics, and supply chain operations, learn the importance of gender diversity in the workplace and the need for more women drivers, and see best practices in encouraging the employment of women in the trucking industry. Learn More