by Fran Bernard, on Feb 8, 2023 8:56:20 AM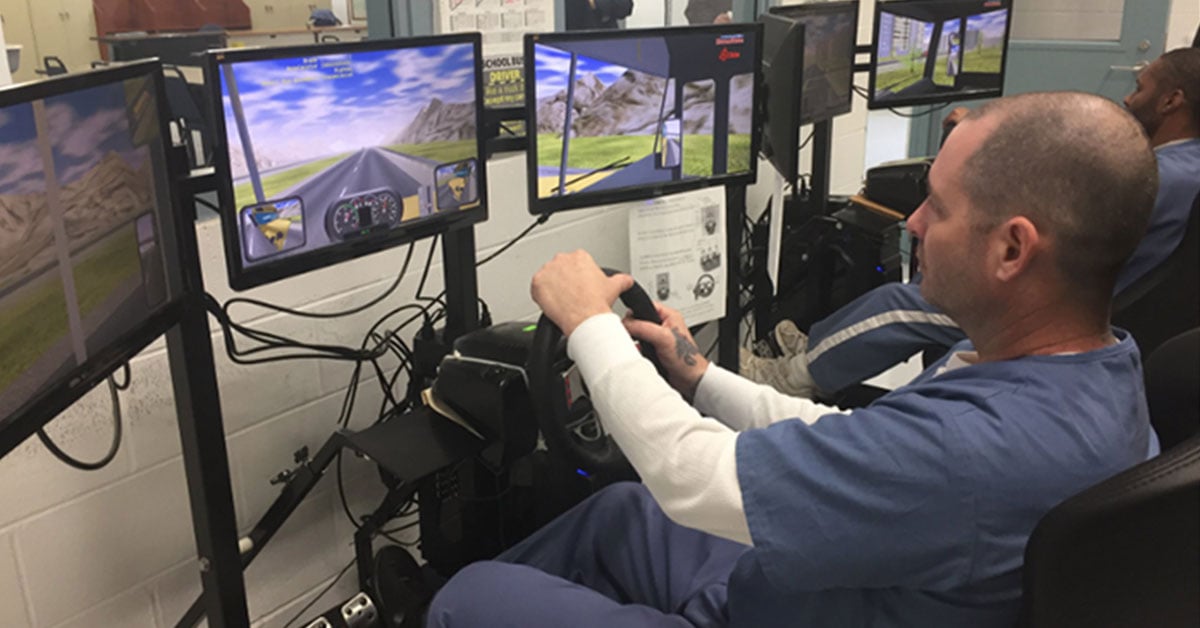 Through the CDL program at Santa Rosa Correctional Institution, inmates earn industry-recognized certifications through coursework and driving simulators.
Aaron Smith and Ed Hennings, two former inmates, help others beat the odds with their Box Truck Course. The trucking industry is currently facing a shortage of around 80,000 drivers according to the American Trucking Association. One of the places that the trucking industry is looking to help fix the driver shortage is with felons.
Aaron Smith, founder of Escaping the Odds, served nearly a decade in prison. According to Aaron, he decided with God's help that it was time for a change. As an entrepreneur, podcast producer, and mentor, Aaron continues to contribute to the ever-changing narrative of the formerly incarcerated. He escaped the odds and seeks to empower anyone who desires to do the same.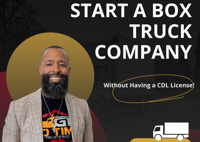 Aaron became interested in the trucking industry during his incarceration. He noticed that trucking and logistics were in high demand. He was very interested to learn that a commercial driver's license wasn't required to operate a box truck. That opened the door to the trucking industry for many former incarcerated individuals. It is a great opportunity for men and women to pursue upon their release, and he wanted to be able to help employ felons.
Ed Hennings, after 20 years of incarceration, the Milwaukee-based entrepreneur and motivational speaker knew that he wanted to own his own business. He became interested in the Box Truck Company and began his own trucking company.
Ed now shares the knowledge that he has learned with others looking to start a new career in the trucking industry. He teaches a course on how to create and operate a box trucking business alongside Aaron.
The program is virtual and serves students in areas ranging from Milwaukee, Chicago, and San Diego. To learn more about their business listen to Aaron and Ed at Former inmates launch box truck course to help people, trucking | Commercial Carrier Journal (ccjdigital.com)
The United States is home to millions of nonviolent felons seeking meaningful employment. The Sentencing Project reports that more than 70 million U.S. adults have some sort of criminal record. An estimated 600,000 people are released from federal and state prisons annually, according to the National Employment Law Project.
The stigma associated with a criminal record can follow a person for years, and that is why the trucking industry can be appealing to felons and ex-cons because there is a relatively short training period and a potential to earn a great living. You can virtually go anywhere in the country and get a job with a CDL-A driver's license as long as you qualify.
With truck drivers being in such a high demand, felons have excellent opportunities for a great salary and job security. The trucking industry is one industry that does not automatically discriminate against all felons. There are many trucking companies willing to give second chances and hire convicted felons so that they might be able to start new with a trucking job with benefits and great wages.
Truck driving is a skilled job. You must be qualified and trained at a truck driving facility to be able to acquire a job driving. Fortunately, there are several federal and state-level prison systems that are helping inmates train and transition into careers in the trucking industry upon their release.
These programs are in both male and female facilities. Bureau of Prisons (BOP) is trying to expand CDL programs to more inmates with a focus on women. Governor Ned Lamont signed a bill making CDL knowledge testing available to certain incarcerated persons. The program will be free for inmates who are re-entering society in six months and have no CDL disqualifications. Once they are released, the driving portion and remaining CDL requirements must be completed. Re-entry into the work force can be a positive experience when there is no delay between discharge and finding a job. Bureau of Prisons Expands CDL Training for Women | Transport Topics (ttnews.com)
There are a number of states throughout the country that offer CDL training of one kind or another to their inmates. Each are a little different but in the end they all help them get their CDLs. Many carriers and truck driving schools are reaching out to state correctional agencies to encourage this training.
In Columbus, Ohio, Richard Crockett, President and CEO at Capital Transportation Academy, is partnering with the Richland Correctional Institution (RiCI) in offering a commercial driver's license program to their currently incarcerated inmates. RiCI has been offering their inmates a chance to better their lives when they finish their sentences for the past decade.
The CDL training offered at the RiCI facility is a "career enhancement program". At the end of their training, they must successfully complete the written exam, then finish up with a four-week training program at Capital Transportation Academy.
After graduating, Ohio based P.I. & I. Motor Express has prospective drivers go through a six-week paid training program. Once they have completed their probation period, they become full-time drivers. Joe Kerola, CEO, is expanding this project even more by working with the State's Department of Rehabilitation, Highway Patrol, Governor's office, etc. The three entities working together is successfully making this a win/win for everyone.
The Santa Rosa Correctional Institution in Florida recently honored 45 inmates who graduated from the very popular truck driving program they offer. They have a program that requires a minimum of 150 hours of training including classroom, behind the wheel and simulator training. After their training, the graduates will still be required to pass their written and skills tests to obtain their CDL-A or CDL-B license.
This truck driver training program is so popular that there is a waiting list to take the course. Since it has become so successful, there are plans to expand it to other institutions in the state of Florida.
These particular graduates driving are consider part of the "Big Club" if they see others they know from the program out on the road, they wave. Not everyone can be a part of the "Professional Freight Relocation Engineering Specialists", like they are, and they are proud to have made it into the "Big Club!" 45 Florida inmates complete CDL training behind bars (cdllife.com)
In Jackson, Mississippi, there were 32 incarcerated men and women that graduated from the Central Mississippi Correctional Facility (CMCF) in Rankin County's Commercial Driver's License (CDL) permit preparation class. Participants, within three months of release, can partake in the pre-release program. This program offers training for individuals in readiness of their release. The agency is committed to making a positive difference in people's lives. They are helping people return to society with a chance at a successful life.
Jacquline Brackett, CDL coordinator at CMCF, said the CDL class is quite popular. "There are so many benefits because commercial driving is such an open field. A person can drive all sorts of trucks with a CDL," Brackett said. "We are seeing more women show an interest. There is a lot of opportunity for them, and men to succeed. I have a waiting list of about 300 people waiting for a place in the classes."
A guest speaker at the graduation, Patrick Etheredge, vice president for workforce development said, "There is a higher demand for women than ever. They have a discipline, self-control, and qualities sought after that is just different than men."
CDL classes are being held in Mississippi at three state prisons, Central Mississippi Correctional Facility (CMCF), Mississippi State Penitentiary (MSP), and South Mississippi Correctional Institution (SMCI). Mississippi Legislature's priority in recent years has been for successful re-entry of inmates into the workforce through gainful employment and not returning to prison. The commercial driver's license program is one of the vocational training programs that is allowing them to reach their goals. Commercial Driving Class Trains for Future Jobs (ms.gov)
In North Carolina, there are six prisons teaching CDL training. More than 200 inmates have successfully completed the commercial driver's license program at Polk Correctional Institution and North Carolina Correctional Institution for Women in Raleigh. There is such an interest in this program that they opened it up in three more prisons. They are seeking ways to expand the number of available spaces in this program because of the high demand of inmates that want to get their CDL. The prisoners understand that the job skills training is a golden opportunity and in high demand.
The completion rate for the North Carolina state prison offenders CDL program was obviously lower during COVID. They have seen an increase last year again going up to 100 students that completed the program in 2022. While in prison, these inmates get classroom time and driving instruction on a simulator. They still need the rest of their CDL training upon release to receive their CDL-A or CDL-B license.
The Lee College Huntsville Center has been truly blessed to offer academic and technical programs to offenders incarcerated by the Texas Department of Criminal Justice since 1966. The proud legacy now enjoyed by Lee College's Huntsville Center was initially envisioned by then Lee College President, Dean Rundell and the Director of the Texas Department of Criminal Justice (TDCJ), Dr. George Beto. Their goal was to offer academic courses and vocational programs within the Texas prison system. Dean Rundell believed there was "tremendous potential for the rehabilitation of TDCJ offenders to a degree and in a manner that would enable them to survive and progress in the free world upon release!"
Lee College has been involved with a driver training program for felons for nearly 40 years at the John M. Wynne Unit operated by the Texas Department of Criminal Justice. Dean of the Lee College Huntsville program, Donna Zuniga said, "The offenders can almost immediately get a job. It's a very coveted program with a long waiting list." She believes that her graduates are in very high demand once they are released. Second Chance The Story Of The Lee College Offender Education Program
In South Texas today, the Windham School District (WSD) is one of the largest correctional education systems in the nation, offering a variety of literacy, life skills, vocational and post-secondary classes to eligible students incarcerated in the Correctional Institutions Division of the Texas Department of Criminal Justice (TDCJ).
Windham School District programs are designed to meet the unique needs of adult students and address the legislatively mandated goals of reducing recidivism, reducing the cost of confinement, promoting positive behavior during confinement, and increasing offenders' success in obtaining and maintaining employment.
The WSD Truck Driving Program has merged transportation and rehabilitation to bring their residents up to current employment standards since 1989. The program they teach is 600 hours or longer. They believe that formalized training is the most reliable way to build awareness and specialize their skills required to safely drive a commercial vehicle. The residents' practice driving course is at Garza, a decommissioned military base. The WSD instructors are ensuring that their students do not miss out on the abundant employment opportunities that are available to them by better preparing them for future employment. WSD - Windham School District (wsdtx.org)
WSD now offers females expanded course offerings and career options including a truck driving program. WSD's women truck driving program is offered at the Hilltop campus in Gatesville, Texas. For eligible students, the program requires a minimum of 500 hours to complete. Instruction begins with classroom work to prepare students to take a written test at the Texas Department of Public Safety (DPS) to earn their temporary Commercial Driving Permit (CPL). Students then progress into hands-on instruction and practice applying their skills on trucks and a simulator.
According to Danielle Nicholes, M.Ed. Communications Administrator, Windham's truck driving program, have seen 52 women earn their completion certificate, and 24 have earned their CDL, to date. The district purchased a truck driving simulator and has seen an increase in CDLs achieved since implementation. Upon completion of the course, students will be tested by DPS.
The purpose of the WSD truck driver program is to teach workplace skills, change lives, rearrange student's thoughts and behaviors, and prepare participants for a successful career and future.
As you can see, programs differ from state to state, prison to prison, which may require inmates to make transfer requests if they are interested in a certain training opportunity that is not offered at their current facility.
Second chances are real. They can be had; you just need to know where to look and be willing to work for it. The prisons around the country want to help you make it happen, and the trucking industry is willing to give you a second chance as well. Take them up on it. Beat the odds!
Like this kind of content?

As a member of the Women In Trucking Association, stay on top of emerging trends and business issues impacting transportation, logistics, and supply chain operations, learn the importance of gender diversity in the workplace and the need for more women drivers, and see best practices in encouraging the employment of women in the trucking industry. Learn More