Driver Ambassador: Embracing Leading-Edge Technology
by Kellylynn McLaughlin, on Apr 7, 2021 9:18:11 AM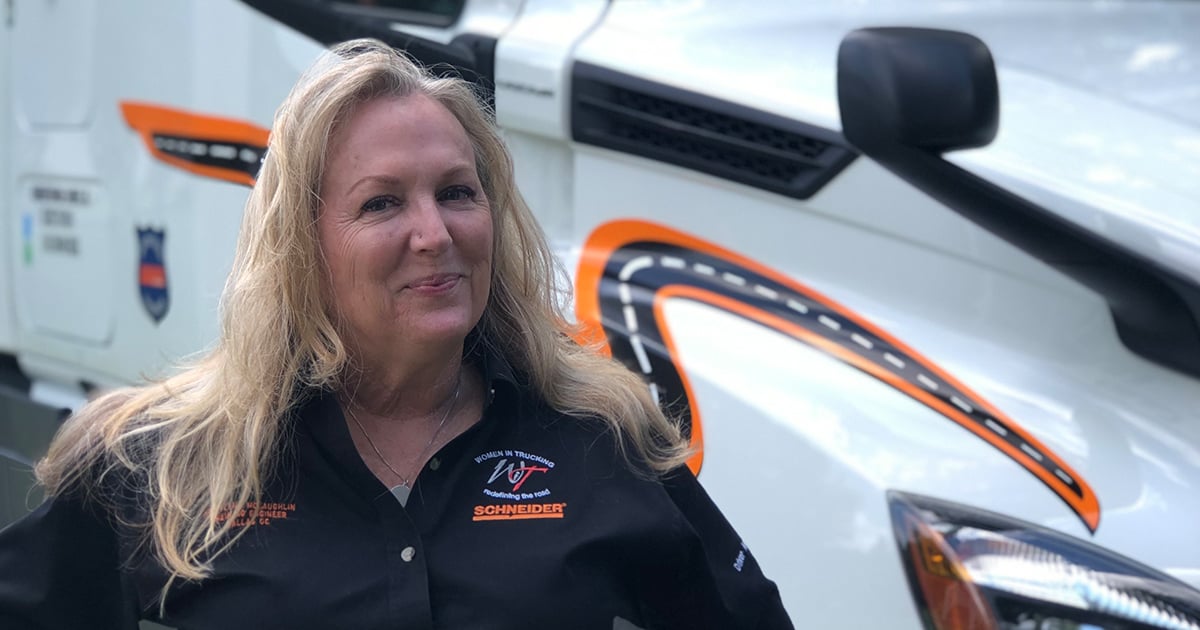 Hear from Kellylynn herself! Take a listen to the podcast version below.

As those in the trucking industry know, the Post-Trip Inspection is a time to check and see if anything has changed with your equipment since you began your trip and if there are any items that need to be addressed before continuing on down the road. It's a time to reflect, assess, and plan what's next.
REFLECT
I am known in my family as the "techy one." Actually, my first plan for a college degree (I tried out 3 different majors) was computer programming. That was back in the 80's when we had mainframes and computer programmers used paper cards to craft the program codes (yeah I know, most of you have never even seen one of those massive computers). The day I accidentally dropped my box of carefully organized cards and saw them fluttering down the building steps, right as I was turning them in for a grade on big project, was the day I decided that career path was not for me. I still love technology though and am constantly amazed at the pace of innovation.

A couple of years ago, I was part of a driver focus group for a national truck stop chain. The group was tasked with testing and evaluating different apps for mobile fueling and in-store purchases. During the group discussion, my excitement and willingness to embrace technology was evidently very obvious. An older driver stood up during the wrap-up session and began complaining. He was very angry that he was having to change/learn technology and said that my opinions shouldn't matter because I was new to the industry. He was of the "if it isn't broken – then it doesn't need fixing" rule of thumb. I felt his frustration and could understand where he was coming from. At the same time, I also believe this industry needs new professionals to take the wheel and that we should be welcoming of the next generation of drivers. That next generation will likely want and expect newer, more efficient technology. I know keeping up with the tech advances can be hard, but it is inevitable, and like I said, if it makes my life easier and safer, I'm all in!



ASSESS

We are at a really exciting place in our industry right now. So many new ideas are being introduced and tested. Many of these technologies are making it easier for ladies to enter the truck driving world and we need to share the good news!

I was at my first customer this week that didn't require me to give them a paper BOL! I have been waiting for that to happen for years!

My tractor, Amelia, is equipped with so many cool technologies. Adaptive cruise control, predictive cruise, brake-assist technology, fridge, microwave, an in-cab king pin release switch, lane assist and an alternate power unit are just some of her lovely technologies.

I've seen some very high-tech entertainment centers, innovative workspace designs for bunk areas and swiveling cab chairs that really catch my eye as well.

My carrier has gone to an in-cab tablet so that they can quickly develop apps to respond to driver workflow needs, build in paperless load and hours of service info systems that help drivers trip plan more quickly, check weather and road conditions, and communicate instantly with mechanics to diagnose and resolve issues while out on the road. Quite a few of the trailers I pull have self-inflating tires with low air pressure sensors. You just got to love it as a driver!

During winter months, heated wipers are a safety technology I would sooo love to have installed on my tractor. Side-mounted cameras are more commonly replacing drivers' giant side mirrors which often hide oncoming traffic at intersections. These are yet another example of state-of-the-art technology that aids us to do jobs more safely.

Smart headlights adjust to oncoming traffic, new engines are more fuel efficient and zero-emission vehicles are out on the roads as we speak. I was recently shooting the breeze with a seasoned driver during a 10-hour break. I purposely chose to park next to him because I had truck envy and was hoping to start up a conversation. He was in a 1981 cabover which looked like it was all original. Turns out he was the original owner and had over 5 million miles in it … WOW! But when I told him what my average mpg was, he didn't have much to say (LOL).
Here are some ideas that I would like to see…my trucker wish list:
Would someone please invent a windshield or glass treatment that eliminates blinding sun glares which drivers have to deal with two times a day?!
How about driver-side window glass that prevents skin cancer and diverts solar heat?
I wish that it was a standard practice for all fleet vehicles to be equipped with reprogrammable keyless entry so that tractors don't share the same keys. It just seems crazy and unacceptable that a carrier would have sleeper berth tractors all keyed the same. I know it makes it easy when someone loses a truck key, but would you be comfortable living in an apartment knowing that other apartment dwellers had a key to your home?
I wish airbags would be installed as a standard passive safety feature on all tractors … just like we have on our personal vehicles. I have seen many tractors laying on their side at the scene of a collision that sure look like airbags would have helped to prevent serious injury or death to the driver.
PLAN
I really believe that the challenges our supply chain has experienced around the world have actually spawned new ideas and sped up the pace of the development of new technologies that help professional drivers be safer, more connected and more efficient. I'm excited to see what new technology the future holds for our commercial drivers and the industry as a whole. It is in my plan to stay receptive to new ideas and keep my ears to the ground listening for what is coming down the road.