Driver Ambassador: September Post-Trip Inspection
by Kellylynn McLaughlin, on Oct 7, 2020 8:51:38 AM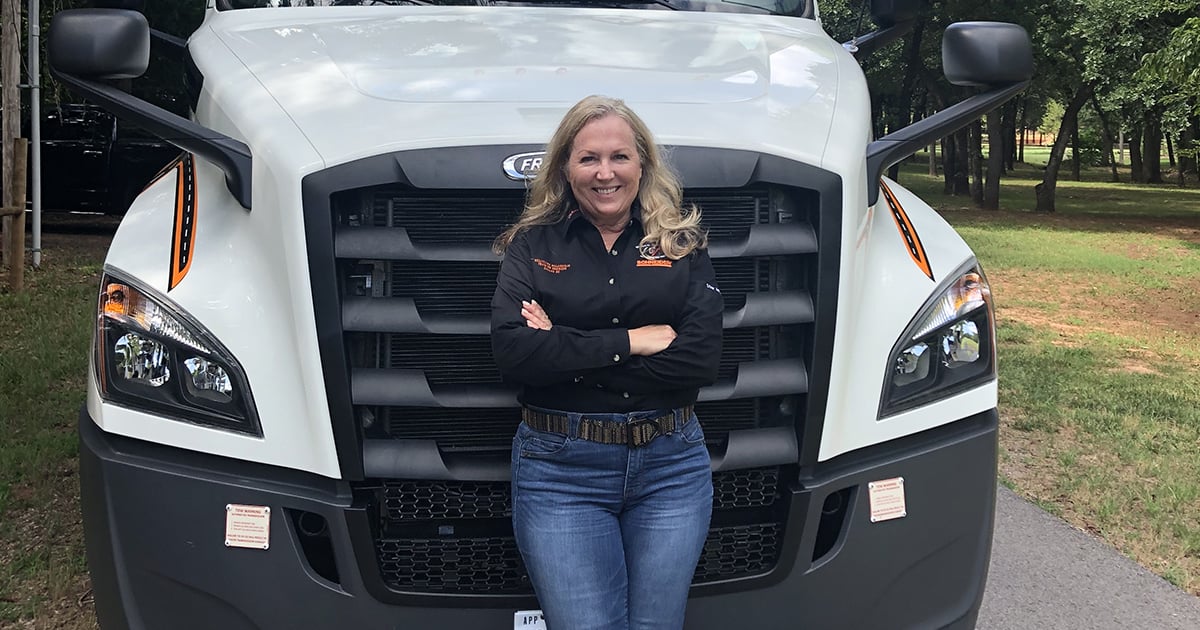 Now introducing the Post-Trip Inspection podcast-style! Hear directly from WIT Driver Ambassador Kellylynn McLaughlin herself, take a listen below.
As those in the trucking industry know, the Post-Trip Inspection is a time to check and see if anything has changed with your equipment since you began your trip and if there are any items that need to be addressed before continuing on down the road. It's a time to reflect, assess, and plan what's next.
REFLECT
During the month of September I can't help but reflect upon Driver Appreciation Week. It's been a good month for our industry's drivers - who doesn't like a few celebratory events, appreciation gifts, and pats on the back! I totally revel in the Thank You-s during the one week a year dedicated just to us. This year a couple of kids made a very colorful banner for me that said Keep On Trucking Kellylinn! It was such a lovely surprise to see as I was pulling out early in the morning. I also received a package in the mail which included well thought-out and practical items which I will use as a lady professional driver such as: a personal safety item, a travel mug, travel size lint roller, and an impressively heavy olympic style medal! I really felt the love and appreciate the gifts and the hand made banner.

ASSESS
What does driver appreciation look like for you? I really enjoy my job and love talking truck. Sometimes driver appreciation is someone just willing to take time out of their day to listen to me rattle on about the trucking life! Now that I think about it, I would really like to see all those "Been in an accident with a big rig? Call the xxxxxx " billboards taken down…THAT would spell driver appreciation for me! I was so very proud to see one of our trucking sisters, Jacinda Duran, on national TV during the Emmy® Awards ceremony! Talk about driver appreciation and changing the stereotypical professional driver image! Thank you Jacinda!
What makes you feel appreciated as a driver? Is it a dependable and competitive living wage? Surveys have shown that having a great working relationship with your supervisor is as important to job satisfaction…can I assume that could also have an impact on driver retention? It is predictable home time for you? What about billboards of support orcommunities coming together to plan for and provide safe places for us to park and take our breaks?
In my ideal professional trucking fantasy world, truck drivers would have their own dedicated truck lane and the public would love us every day - not just one week a year! I would be showered with waves and thumbs up all day long.
PLAN
I am thinking about appreciation and how to work towards incorporating that into my daily life. I want to tell my female driver role models how much I admire them. I can't imagine what trucking was like for women in the pre-modern technology days and the working conditions they endured to do the job they loved. I am so appreciative of those that have spurred me to try harder and challenged me not give up on those days when I doubted my own strength. I plan to share my appreciation moments more often and not save them for just one week a year. I also plan to be that Driver Ambassador that is out there every week sharing our stories and encouraging the public to appreciate us every day.