Driving Change: LGBTQ Inclusion with Regan Morton
by Women In Trucking Staff, on Jun 23, 2021 11:15:41 AM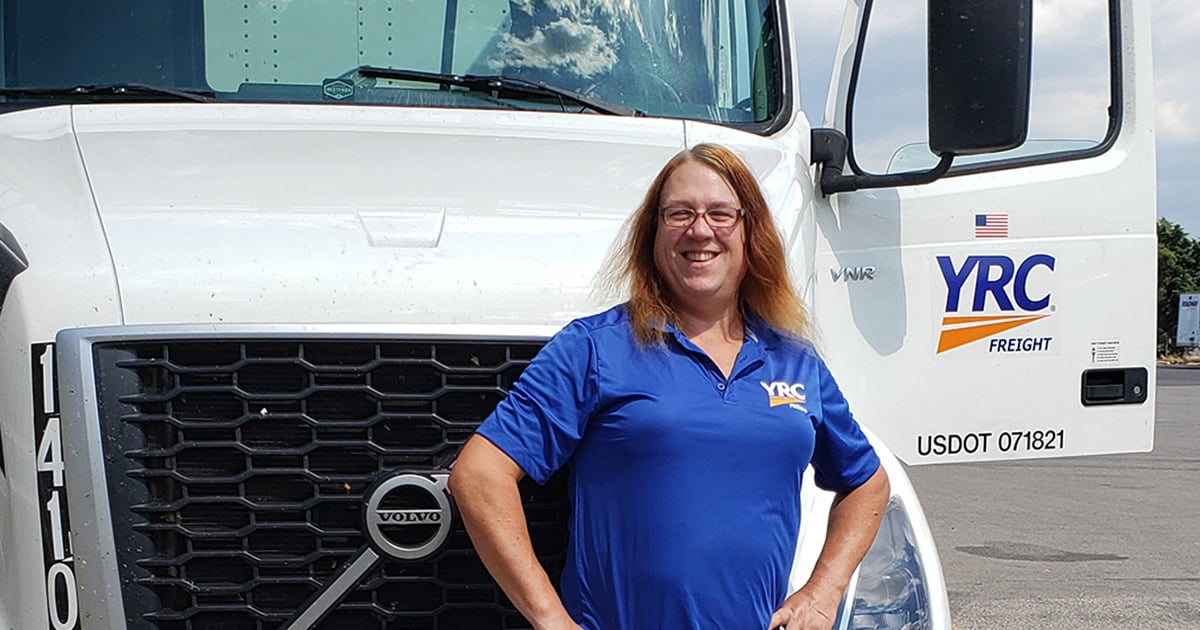 In honor of Pride month, Transporeon spoke with WIT member Regan Morton, a professional driver for YRC Freight and activist. As a trans woman, Regan works to raise awareness around issues of LGBTQ inclusivity and has been integral in leading WIT's LGBTQ Task Force.
Here are few key takeaways from their discussion on how the trucking industry can better support LGBTQ drivers and why Regan is optimistic about the future.
Respecting the Need for Healthcare
When asked about some of the unique challenges faced by members of the LGBTQ community within the trucking industry, Regan touches on healthcare coverage as often times a major hurdle, espcially for those who are transgender.
She says it's important to obtain the right insurance that will cover all healthcare needs throughout the transition process and beyond. Many require five months off or more from work to heal after surgeries, but the Family Medical Leave Act only covers 120 days.
She also mentions how it can be challenging as a truck driver to get home to make it to doctor appointments. She adds that often times companies within the industry aren't understanding of the time for doctor appointments, and will end up forcing out the employee.
Be Open With Your Company
Regan recommends being as open as you can be with your company as hiding only leads to cover stories and secrets. "This is who I am," she says, adding that she made that decision after seeing a therapist for a few months. She went directly to her boss to address it.
My company has to transition with me.
She acknowledges that as she made the transition, the people around her have to transition as well. And that it meant a lot to her to have the support from her company.
Trucking is Behind the Times
Regan notes that the trucking industry is well behind on supporting the LGBTQ community and many companies don't even want to touch the subject.
"They don't want to open themselves up for lawsuites," she says. "By not answering questions, they cover themselves."
Benefits of Supporting LGBTQ
While the trucking industry may be lagging in its support, Regan argues why companies should start making more of a concerted effort to not only recruit members of the LGBTQ community, but outwardly show that support.
"It shows that you're inclusive," she says. Adding that people will say 'this is the type of company I want to work with' and open your organization up to not only more business, but pool of potential employees. "Companies should lead with these values to show prospective LGTBQ hires." Especially with the driver shortage, she advocates that the industry "could really benefit from targeting our community."
When asked about trucking companies supporting Pride month, she points to the opportunity to get involved with Pride Parades. "Put out your semi trucks. Kids love that! It shines a favorable light on your company."
Always Be Yourself
Regan's message to other LGBTQ members in the trucking industry? "You can fight who you are, but who you are is always going to win out. You just gotta be yourself."
She advises to search out companies that are more accepting. Find a company that has internal advocates that will not only make sure that you're happy as an employee, but will speak up to help create change at a structural level.
Proud to be a Trucker
With her father being a professional driver, trucking has always been in her blood. And she has a great sense of pride working in the industry.
"As a truck driver, we sacrifice family life and home time to keep the nation moving," she shares. "What I'm doing is making other people's lives better. They're getting what they need."
Listen to the episode below.