Fostering Dialogue About Gender Diversity
by Michele Wade, on Jun 29, 2021 12:15:05 PM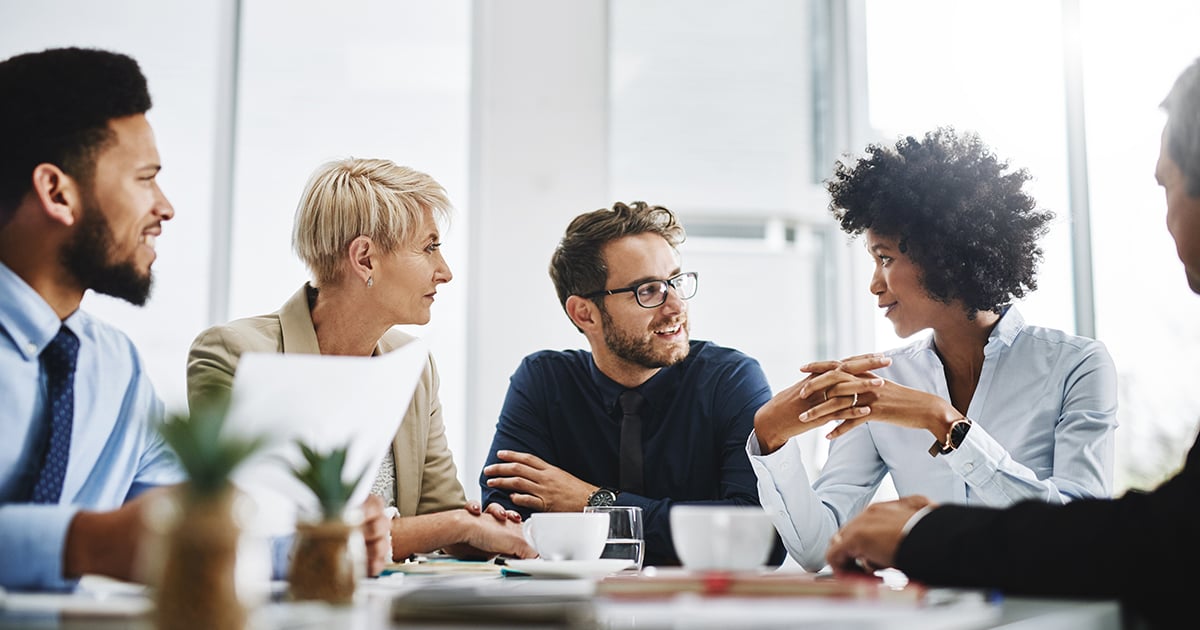 "We all have the power to bring about change, individually and collectively, and the way we do that is by starting conversations in our own workplaces." - Sallie Krawcheck, author of Own It: The Power of Women at Work
When you look at the best practices of the organizations on Women In Trucking's "Top Companies for Women to Work For in Transportation" list year after year, a common theme emerges. These companies have found creative ways to encourage dialogue about gender diversity.
"Simply talking openly about gender in the workplace is a critical first step," says Ellen Voie, WIT President and CEO. "Having meaningful conversations about our differences — and our similarities— can help us to find common ground and lay the foundation for our future."
Top companies employ a variety of strategies to foster this discussion.
Build a supportive corporate culture
Perhaps one of the most powerful tools for supporting conversations about gender diversity is corporate culture. When equality is a key element of a company's shared system of beliefs and values, it sets the tone, and employees feel more comfortable contributing to discussions and identifying opportunities for improvement.
It's no accident, therefore, that YRC Freight takes pride in creating what Organizational Development Business Partner Melissa Jass calls "a community of support, enrichment and engagement."
At Melton Truck Lines, women "have a seat at the table, and our leaders see us as the future of our company and our industry," says Marilyn Surber, Employee Services Manager.
Women thrive in a similar environment at Transport America. "Our voices are heard, we are empowered, and we drive change," explains Katie Talcott, Vice President and General Manager of the company's Solo OTR Division. "Our collaborative culture supports women, both professionally and personally."
Sharing the corporate values with the entire company is critical to the conversation. Total Transportation of Mississippi, for example, employs daily communications, monthly forums, online communications and training opportunities to help promote a sense of purpose and voice for women drivers, explains Dustin Koehl, Vice President of Sales & Marketing.
Provide opportunity for development
Another best practice is to formalize internal groups focused on women's issues and support gender diversity through professional development. Groups like these help build female leaders and foster an engaged workforce.

KeepTruckin's Women's Group helps "to create an empowering, collaborative and supportive safe space for women to discuss their ambitions and the challenges they face for career development," says Krissy Manzano, the company's Senior Director of Sales.

Prime's Highway Diamonds program provides mentorship, recognition and a sense of pride. Dee Sova, a Prime Driver, credits the program with "giving us the feeling that our voices are heard."

The Women of Covenant group serves a similar purpose. "When people feel valued and supported, they are more engaged which leads to higher retention rates and higher productivity," Rachel Hatchett, Covenant's Director of Operations, points out.

A number of other companies also have established groups for women, including FedEx Custom Critical's Women in Leadership Group, JX Enterprise's Living as a Leader program, the Michelin Women's Network, Omnitracs' Women's Community Program, and OTR Capital's Women in Logistics Council.
Linking to the world at large
Connecting with broader gender diversity initiatives can also be valuable in furthering conversations on diversity. Initiatives like #Time'sUp and #MeToo have dramatically increased visibility and generated dialogue.

Others are also gaining ground. Day & Ross Transportation used International Women's Day's #pressforprogress on social media to highlight women that make a difference at the company.

Caron Transportation is a founding member of Women Building Futures for the trucking industry, helping to empower women to succeed in non-traditional careers.

Knichel Logistics supports organizations such as Strong Women Strong Girls and the Chatham Center for Women's Entrepreneurship and awards an annual scholarship to female high school athletes.

All of these efforts raise awareness of gender diversity and show women that they're valued. Talk about a great conversation starter!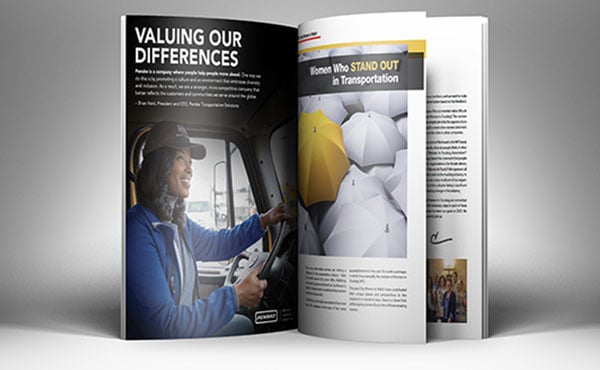 This article was originally featured in Edition 3 of 2018 in our official magazine, Redefining The Road.
Like this kind of content?
As a member of the Women In Trucking Association, stay on top of emerging trends and business issues impacting transportation, logistics, and supply chain operations, learn the importance of gender diversity in the workplace and the need for more women drivers, and see best practices in encouraging the employment of women in the trucking industry. Learn More