HERstory: First Female Trucking Firm Owner
by Women In Trucking Staff, on Mar 8, 2021 7:15:00 AM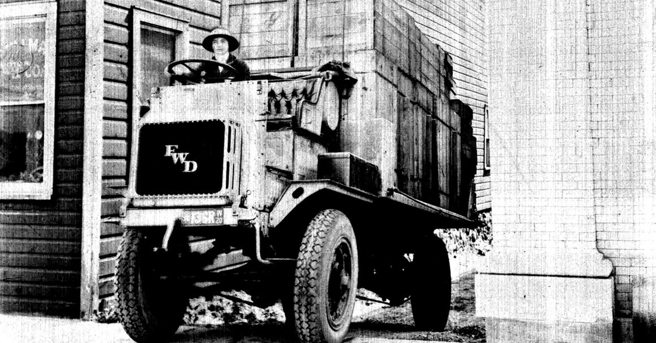 In honor of Women's History Month, the Women In Trucking Association is taking the time to tell the stories of iconic women who have paved the way for females, whether behind the wheel or in the office, to thrive today in what is seen as a male-dominated industry.
Lillie McGee Drennan
Lillie McGee Drennan overcame a lot of challenges to not only earn the title of the first licensed female truck driver in the state of Texas, but the first female to own a trucking firm. From dropping out of school after finishing the fifth grade, to becoming a successful truck driver and business owner, here is her story.

Drennan was born in Galveston, Texas and at three weeks old she entered the public system and was fostered by Francis Carolyn and Nicholas McGee. Not much is known about her childhood, but at the age of 22, she lost most of her hearing as a result of scarlet fever.
In March of 1928, she married her second husband, Willard Ernest Drennan, and the couple purchased their first truck, which happened to be an open-cab Model-T Ford, and they opened Drennan Truck Line (DTL). The business quickly grew and DTL was known to haul oilfield equipment, explosives, soft drinks and general freight all throughout Texas, but in 1929 she obtained her commercial driver's license despite her hearing impairment. In that same year, she got divorced and then became the sole owner of DTL.
She operated the business for close to 24 years and kept a perfect driving record. She would sometimes drive for 48 hours straight and never had an accident, which at the time, made her more than qualified to win many safety awards from the Railroad Commission and Texas Motor Transportation Association.
Drennan sold DTL in 1952 and dedicated her time to another business, a packaging store called Six Shooter Junction Novelty and Package Store. Her story continues to inspire many other women today and shows that no matter what obstacles occur, you can succeed.

Stay tuned for next week's feature!
Like this kind of content?

As a member of the Women In Trucking Association, stay on top of emerging trends and business issues impacting transportation and logistics; learn the importance of gender diversity in the workplace and the need for more women drivers; and see best practices in encouraging the employment of women in the trucking industry. Join today! Learn More