How Safe Do Female Drivers Feel On the Road?
by Women In Trucking Staff, on Dec 15, 2021 8:17:40 AM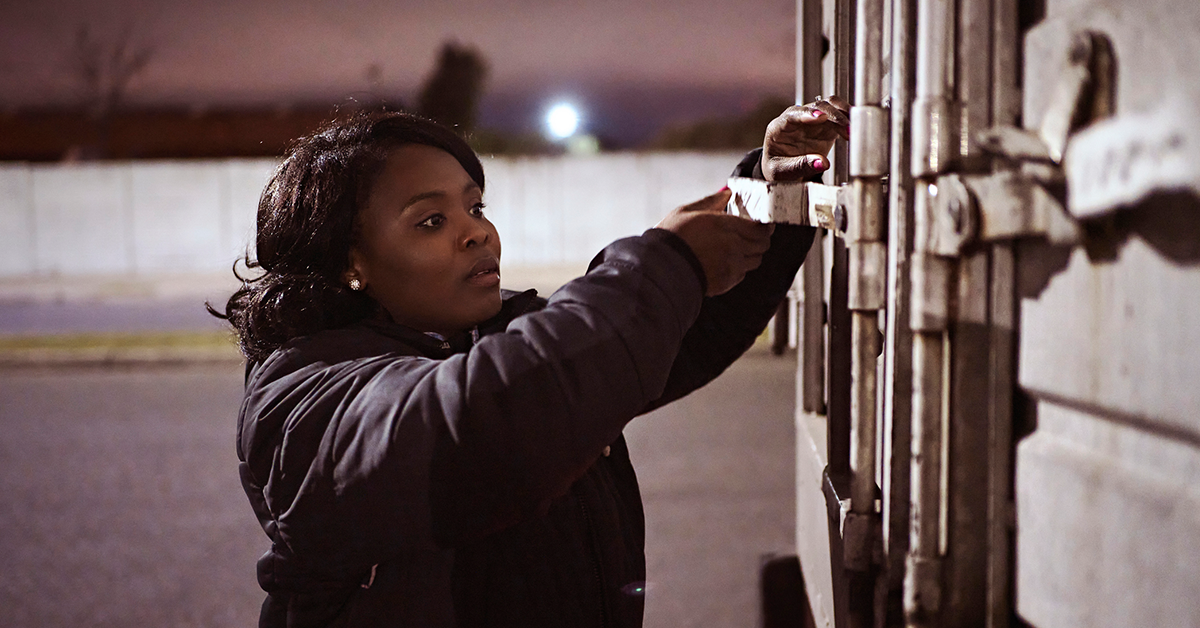 Never before have there been more opportunities for female drivers in the commercial freight transportation industry. As a driver, you're a hero of the highway, a road warrior who can feel as though you have the freedom to roam but with a destination in mind. There's no better way to see the country and satiate your appetite for travel. And in today's market, you can make a very lucrative salary with competitive benefits and solid job security with the right company.
But while professional truck driving can be a gratifying and rewarding career choice for women, it's not without its concerns or drawbacks. For females, these concerns and challenges focus heavily on safety and harassment in a male-dominated industry.

WIT recently published the 2022 WIT Female Driver Safety and Harassment Study, a research project that WIT plans to conduct regularly. This initiative was to gain a voice of the driver around safety and harassment issues. MindShare Strategies, WIT's association management company and publisher of Redefining the Road magazine, deployed this research project that involved an online survey. During the months of July through September of 2021, female drivers weighed in through an online survey on critical areas of concern. Nearly 450 professional drivers completed the survey so the results are statistically valid. Approximately 47 percent work for for-hire motor carriers, 27 percent are owner-operators, and 11 percent drive for a private fleet of a manufacturer, retailer or distributor. This article shines a light on some of the biggest areas of concern.
How Safe Do Women Drivers Feel?
This is an important question that has a direct impact on how successful the industry is in recruiting and retaining female drivers. The good news is that a majority of females feel the trucking industry is a safe one for them. In fact, when asked if they feel trucking is safe for women to be employed in, approximately 54 percent strongly agreed or agreed with this statement. Interestingly, significant percentage (28.5 percent) had no strong opinion on this perception one way or another. However, there are still a significant number of female drivers who do not think trucking is a safe industry for them. In fact, nearly 18 percent think that trucking is not a safe industry for women.
Where do they perceive to be the most significant safety threat to female drivers? As you might expect, a vast majority of respondents (87 percent) feel truck stops are unsafe for women, while another 85.5 percent say rest areas are unsafe. Approximately 75 percent say the cab is a location with significant safety threats, and another 74 percent say the shipper/receiver facility registers high in safety threats.
How Do You Stay Safe?
There are many ways women drivers can minimize the chance of a safety threat on the road. See the sidebar on the next page for practical tips. Drivers also can enhance their safety through formal training in selfdefense for drivers. In fact, approximately 25.5 percent of respondents have had some formal training in self defense for drivers – although the industry needs to work harder toward making safety training for women drivers a priority.
What are some other ways in which female drivers can remain safe? Simply paying attention and not be distracted when you're outside of your cab. In fact, 96 percent of respondents say they pay close attention to what's happening around them. Another 77 percent remain in lighted areas as much as possible when they stop at a truck stop or rest area, while another 47 percent attempt to remain around other humans. Not surprisingly, 44 percent carry personal safety products (such as mace or pepper sprays) while another 26 percent carry a firearm. Another 15 percent carry a device that creates warning noises in the case of an incident, such as a rape whistle.
Same-Gender Training: A Critical Issue for Female Driver Safety
Currently, a newly hired professional driver is usually required to spend time with a trainer to improve (or prove) her driving skills before employment is secured. The trainer monitors the trainee's driving competence and makes recommendations regarding the person's employability. This period of training could extend from a few days to a few weeks, often requiring the use of the sleeper berth by one or both drivers. This is where a potential safety risk can appear.
"The proximity of the sleeper berth and personal quarters creates an atmosphere where privacy is often compromised," says Ellen Voie, WIT President and CEO. "In most cases, the driver trainer and trainee are unrelated and often previously unfamiliar with one another." Recent research by Dr. Jennifer Hirsch and Dr. Claude Mellins, in The Sexual Project, found the proximity of a bed encourages sexual encounter in college dorms.
According to Voie, "We have not been able to identify any other mode of transportation that mixes men and women in areas intended for sleeping or personal activity. In trucking, a carrier is not allowed to use age, ethnicity, gender or other protected classification to segregate drivers."
The option to adopt a same-gender training policy has been found to be in violation of the Equal Employment Opportunity Commission (EEOC) as filed in a lawsuit against a carrier in 2011. The EEOC found the carrier violated federal law by discriminating against female truck driver applicants who were placed on a waiting list for female trainers, often resulting in a delay in employment. The court ruled the carrier used discriminatory hiring practices in 2016.
The EEOC attorney claimed that it was disrespectful to men to assume they will harass women if they work together in close quarters. What the EEOC failed to understand was that these drivers not only worked in close quarters, they were required to sleep in close quarters.
WIT has taken the position that the Bona Fide Occupational Exemption should be an option for carriers who choose to adopt a same-gender training policy. Bona fide occupational qualifications (BFOQ) are employment qualifications that employers are allowed to consider while making decisions about hiring and retention of employees. The qualification should relate to an essential job duty and is considered necessary for operation of the particular business.
This is a serious issue. In fact, according to the WIT Driver Safety and Harassment research project, a significant number of respondents (42.5 percent) say they are aware of a driver who has experienced harassment or actual assault as a result of sharing a cab with an opposite gender trainer. Approximately 39 percent say their company offers a same-gender training program.
Given the ongoing serious truck driver shortage, this is an area where for-hire trucking companies or private fleets could make a significant impact. In fact, 62.5 percent of respondents believe that the implementation of a same-gender training program would encourage more women to pursue a career as a professional driver.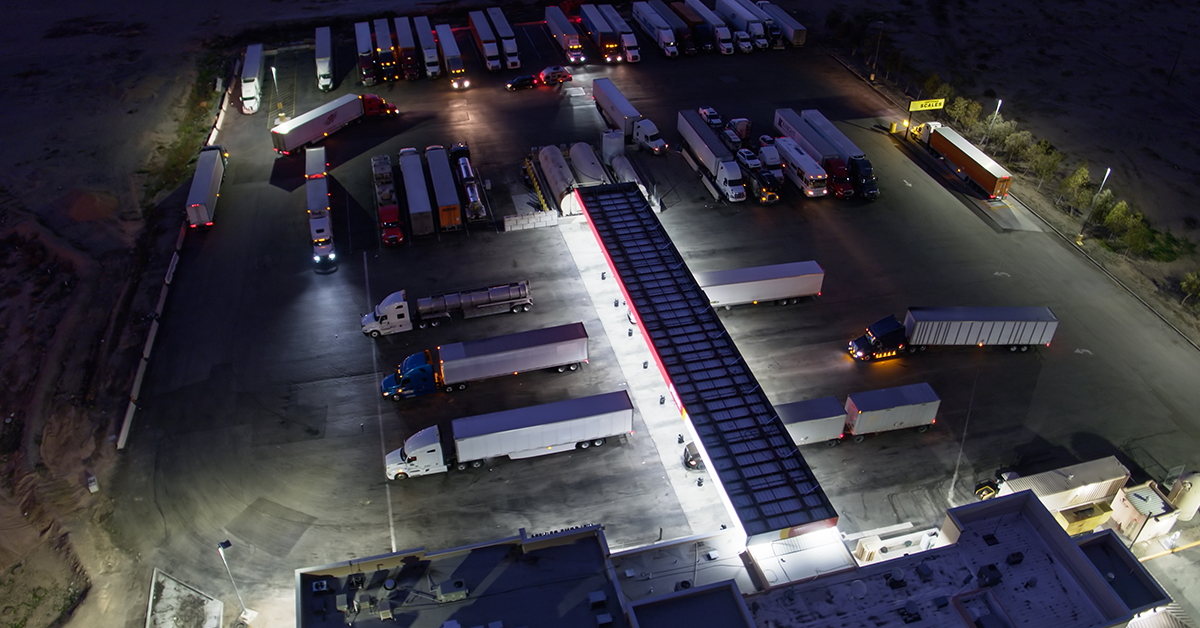 6 Tips for Women Truck Drivers Safety
1. Choose Your Employer/Customer Wisely.
Work only with companies that will respect you (and your gender). Work with those who are empathetic to the unique needs of women and working mothers who are trying to strike a healthy balance between work and family.
2. Be Aware of Your Surroundings.
Always be aware of what's going around you when you're outside of your truck. If you can, park in the front line at a truck stop or under a light if that's not available. And always carry your cell phone and any other safety devices with you, such as mace or a rape whistle.
3. Prepare With the Appropriate Gear.
While you can track the kind of weather you'll be driving into, nothing is guaranteed. Always be prepared for the worst-case scenario. Have these essentials in your cab: rain coat, first aid kit, work gloves, boots, and flashlight or headlamp.
4. Always Have Your Own Food.
While there are a lot of opportunities to conveniently purchase food on the road, they're not always the best or healthiest options. Many new trucks have mini fridges in them, so it's easy to pack your own healthy food and not risk it spoiling. Doing so not only provides you a better lifestyle, but it also minimizes the number of times you have to risk your safety by getting out of your cab.
5. Plan Bathroom Breaks.
When planning your route, plan bathroom breaks as much as you can – and know the best accommodations with the best reputations on your route. Also make sure to have everything you require in your cab.
6. Talk With Other Female Drivers.
Lastly, stay connected and talk with other women to get ideas for safety on the road. Build relationships and rapport with your female driver peers. Visit the WIT website and social channels where you'll find safety information featuring other drivers with practical advice and best practices on how to stay safe on the road.
This article was originally featured in Edition 3 of 2021 in our official magazine, Redefining The Road.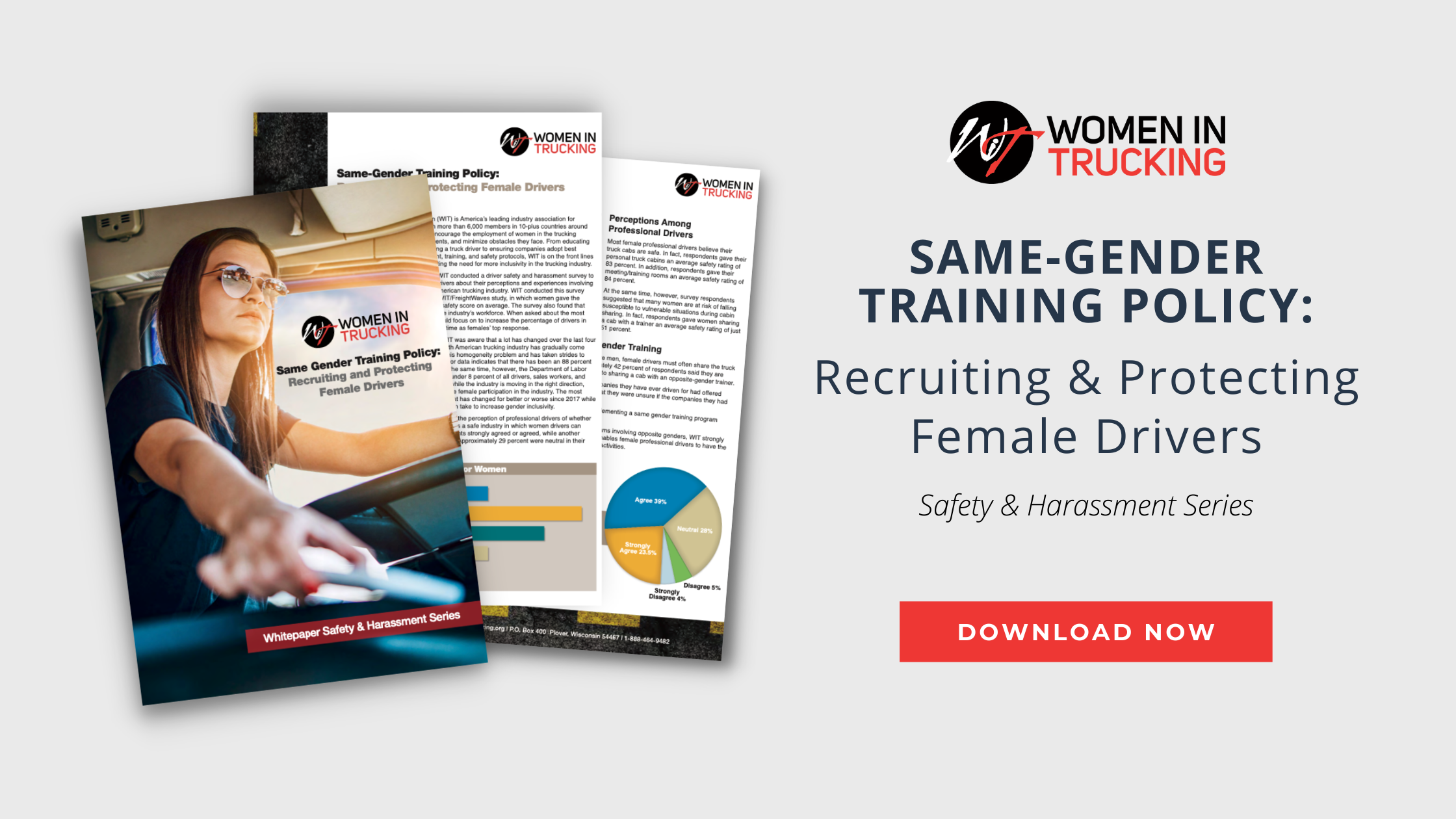 Like this kind of content?
The results of our Driver Safety and Harassment Study suggest that alleviating females' cab-sharing safety concerns would represent a great place to start in addressing barriers for women entering the industry and making it more inclusive. Download the full whitepaper for more perspectives and data for free.