J.B. Hunt Hosts Trucks Are For Girls Event
by J.B. Hunt, on Dec 4, 2019 4:33:00 PM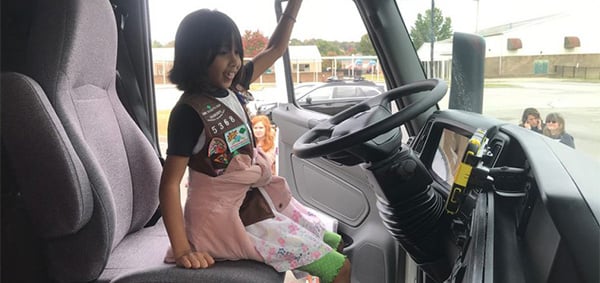 Recently, J.B. Hunt's GROW hosted the inaugural Trucks are for Girls event in Fayetteville, Ark. The event was powered by the Women In Trucking Association through their Girl Scout Transportation Patch program. Thirty Girl Scouts from the Northwest Arkansas area participated in the event which helped educate them on supply chain logistics.
The girls had an interactive session with Tami Allensworth, SVP of Customer Experience at J.B. Hunt, where she spoke about supply chain and how it affects the Girl Scouts personally. From ingredients to delivery, the girls learned how their cookies move from point to point until they reach the happy customers.
In addition, a tractor from J.B. Hunt's Intermodal fleet was on site for the girls to check out. Each girl received a goody bag with their Women In Trucking Girl Scout patch, a Women In Trucking Clare doll and a supply chain activity book.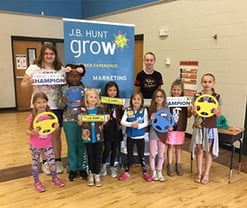 GROW is one of four employee resource groups at J.B. Hunt. The group is dedicated to empowering and engaging employees in the organization to support women's professional and personal success, thereby adding value to J.B. Hunt and its partners.
Special thanks to J.B. Hunt driver Rico from the Kansas City Regional Fleet who drove the truck for the event and to the J.B. Hunt GROW members who made it possible:
Carey Olson, Sr. Manager, Operations
Erica Hansen, Manager, Network Planning
Juli Dorrough, VP of Finance
Krystal Miller, National Accounts Executive
Lori Janes, Director, Operations
Rachel Christensen, VP of Operations, Intermodal West Coast
Sheila Majors, Director, Operations
Stacie Suarez, J.B. Hunt Experience Manager
Tami Allensworth, SVP of Customer Experience
Interested in hosting a Girl Scout event? Contact Lana Nichols for more information.