Making it Happen as a Woman of Influence in Transportation
by Women In Trucking Staff, on May 17, 2022 3:12:29 PM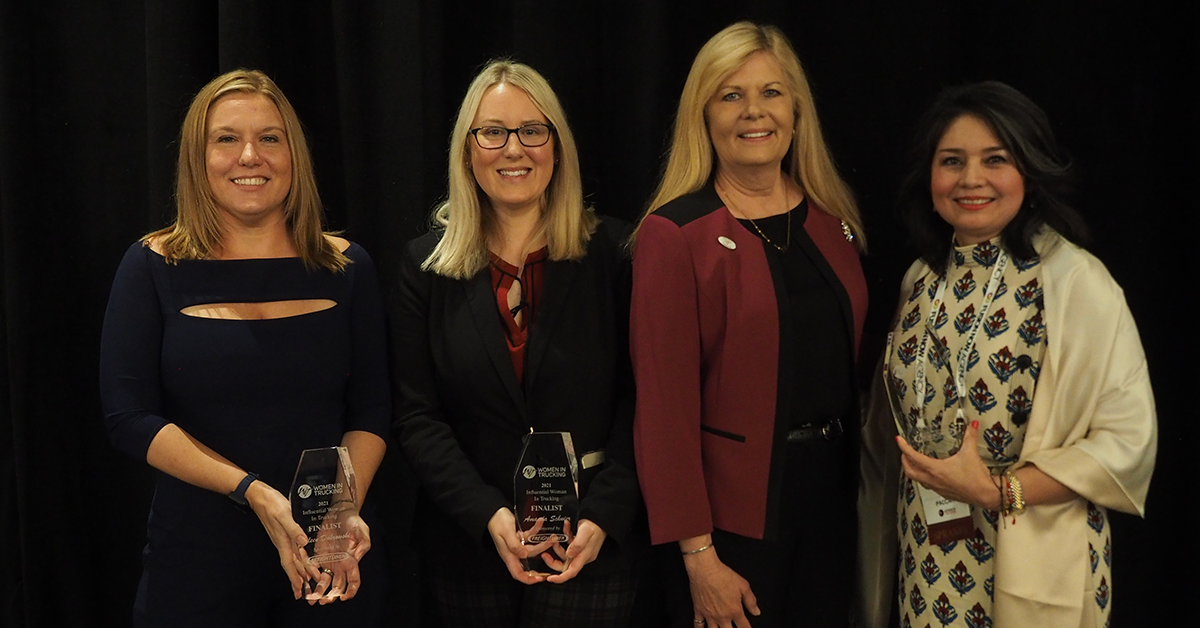 L to R: Finalist Eileen Dabrowski, finalist Amanda Schuier, WIT President and CEO Ellen Voie, and the 2021 Infuential Woman in Trucking, Lily Ley.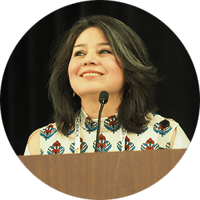 The Women In Trucking Association recognized Lily Ley as the 2021 Influential Woman in Trucking. It was the 11th year for the award, which was developed in 2010 as a way to recognize female leaders and to attract and advance women in the trucking industry. Here's her story, along with the two other impressive finalists.
Lily Ley has come a long way from her humble beginning in Mexico. The oldest of five children growing up in a two-room home, she was the first in her family to earn a college degree. Her father was a hardworking taxi driver and early on she learned a strong work ethic from him.
After she graduated from CETYS Universidad, she worked through a series of programmer and systems development roles at Kenworth Mexicana, one of the larger employers in her area. At a point early in her life she realized the need to move to the United States to elevate herself to the next level in her career. Fast forward more than 30 years later: Ley has navigated a very successful career at PACCAR advancing through the Informational Technology Divisions at Kenworth Truck Co. in Kirkland Wash., and PACCAR in Renton, Wash, and ultimately being promoted to Chief Information Officer. She was the first female to rise to the Executive Operating Committee at PACCAR.
In addition, she is the executive sponsor for the PACCAR Women's Association (PWA) which was formed based on her vision. Ley is passionate and will not accept "no" for an answer helping the company drive change within the organization.
Ley attributes resiliency as a key characteristic to her success in her career – and in life. "What I learned early in life gave me the ability to go beyond every challenge," says Ley. "It gave me a foundation of fundamentals for what I do today. I see everything from different perspectives and I'm able to adjust to special circumstances." Her resiliency was tested even further, she says, when she was diagnosed with brain cancer twice – and survived.
"Sometimes you just need to pause when it's needed," she advises. "Take a moment, reflect on your purpose."

Ley suggests that in those times, mentors can be of significant benefit: "There have been people who have helped me along the way to become a better person and professional. You also need to have a sponsor, someone who will advocate for you in the company. When they are making decisions about succession planning, you want to make sure to have a sponsor there who knows about your aspirations and can advocate for you."
When asked some of the most defining moments in her life, Ley cited her decision with her family to move to the United States early in her life. In addition, when she became mother to two daughters. Oh, in 2011 she also just happened to successfully climb Mount Kilimanjaro, the highest mountain in Africa and the tallest freestanding mountain in the world "because I wanted to conquer my fear of heights."

It's no wonder why this innovative, driven woman was named WIT's Influential Woman in Trucking in 2021.
Meet the Finalists: Eileen Dabrowski and Amanda Schuier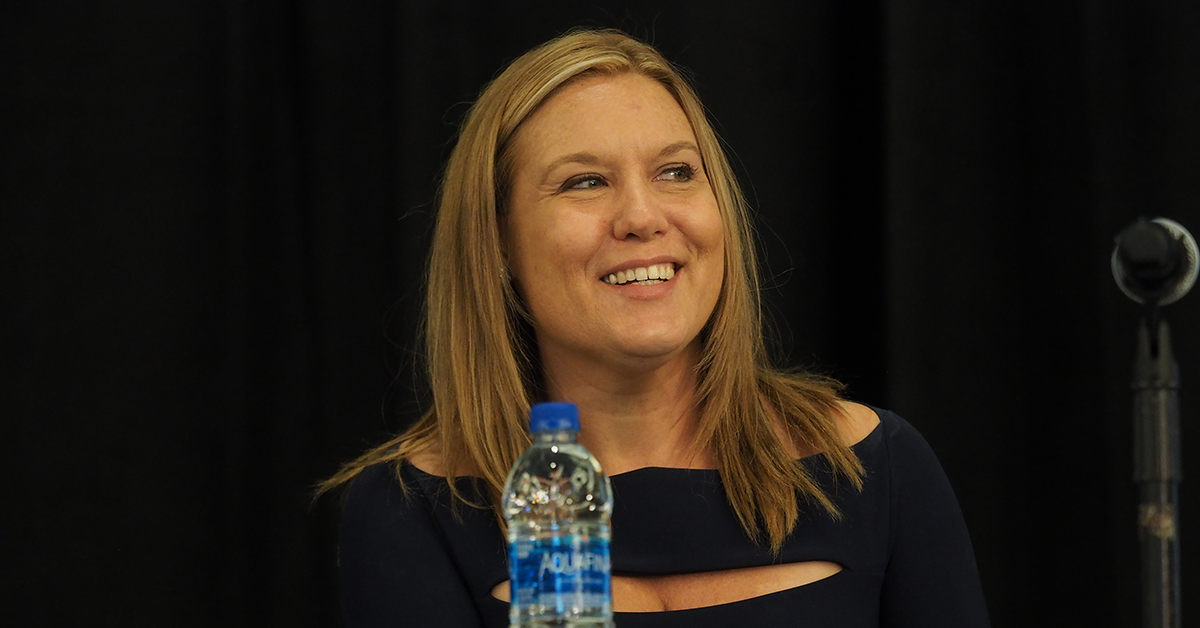 Eileen Dabrowski proudly calls herself a "triple Bull," referencing the mascot at her alma mater, the University of South Florida, where she earned a bachelor's degree in Psychology, a master's degree in Women and Gender Studies, and a Doctorate in Curriculum and Instruction.
"Never in a million years did I think of a career in transportation," says Eileen Dabrowski, Director of Learning, Development and Marketing at ReedTMS Logistics, a family-owned and operated asset-based third-party logistics solutions provider. But once she learned from one of the company owners during an interview about the industry and the position she was apply for, "coming into this industry was one of the best decisions of my life," she says.

Dabrowski now oversees the development and facilitation of all company-wide training programs, new employee onboarding, leadership development, marketing projects/ReedTMS brand integrity, and event planning for the company.
She also spearheads company philanthropy initiatives and works hard to maintain and improve employee culture and morale. Dabrowski believes in mentorship and women taking the time to build each other up, not down. She is also an advocate for diversity and inclusion in the workplace and believes for the trucking industry to be more supportive and inclusive for all, you must teach children about trucking and work with organizations like WIT to collaborate and showcase the women and minorities who are crucial to the success of the industry.
Dabrowski talks about how she has a unique perspective on life: "Challenges and barriers don't phase me. When things implode around me, I keep it together and just figure things out." She suggests that this perspective was developed from an experience early in life.

"I was diagnosed with Stage 4 cancer at the young age of 21," she says. "They said I had only a few months to live. They placed me in some support groups with people who were 85 and 72, and they had lived their lives, had their families, and were making peace with their prognosis. And I'm like 'I'm not ready to die!'"

A cancer survivor who is a strong woman and business leader, she says "it's all about balance and self-care. Take what life has given you and make the most of what you can. Every day."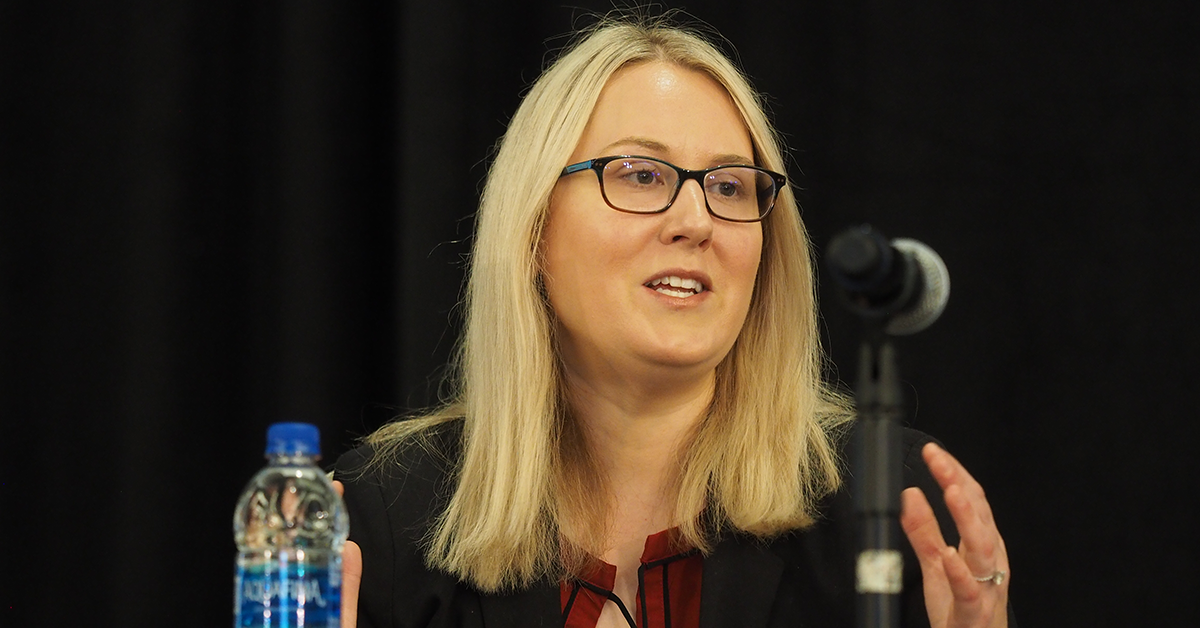 Amanda Schuier is a fourth-generation trucking industry member, and the first female in her family to hold such a role. Until recently she was Chief Operating Officer of Quality Transport Co. Yet, being in transportation was not her initial plan for her career.

"My grandfather owned a Mac truck dealership and I was around trucks growing up," Schuier recalls. "But never did I think as a child 'I want to go into trucking.'" She earned her college degree in advertising and public relations from Creighton University. When she was laid off by a marketing firm in Kansas City, she found a marketing job at a PACCAR dealership without much forethought that she was entering into the industry of her family roots.

"At this job there was a corporate entity upstairs and a dealership downstairs," she recalls. "And I quickly realized I wanted to be downstairs because that's where so much of the action was. That's how I fell into this." Since then, she has held positions involving marketing, sales, driver recruitment and operations at the dealer, supplier and fleet levels. Her role as Chief Operating Officer at Quality Transport included oversight of sales, dispatch, driver relations, safety programs and new technology initiatives.

"Never stop learning," she advises. "Ask questions. Ask for help. Find mentors and pursue your passions. Remember that there are so many women out there who have been through what you've been through – so never feel timid to bounce ideas off others." There's no question that she is passionate about mentoring other young women as they explore careers in transportation.

The 2021 WIT Influential Woman in Trucking Award was sponsored by Freightliner Trucks.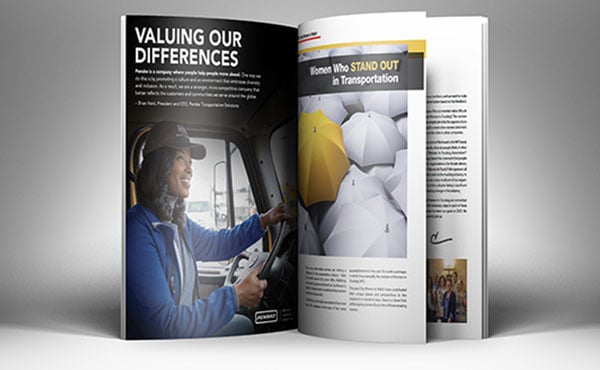 This article was originally featured in Edition 1 of 2022 in our official magazine, Redefining The Road.
Like this kind of content?
As a member of the Women In Trucking Association, stay on top of emerging trends and business issues impacting transportation, logistics, and supply chain operations, learn the importance of gender diversity in the workplace and the need for more women drivers, and see best practices in encouraging the employment of women in the trucking industry. Learn More