Making the Grade: Top Companies for Women in Transportation
by Women In Trucking Staff, on Dec 23, 2022 2:34:17 PM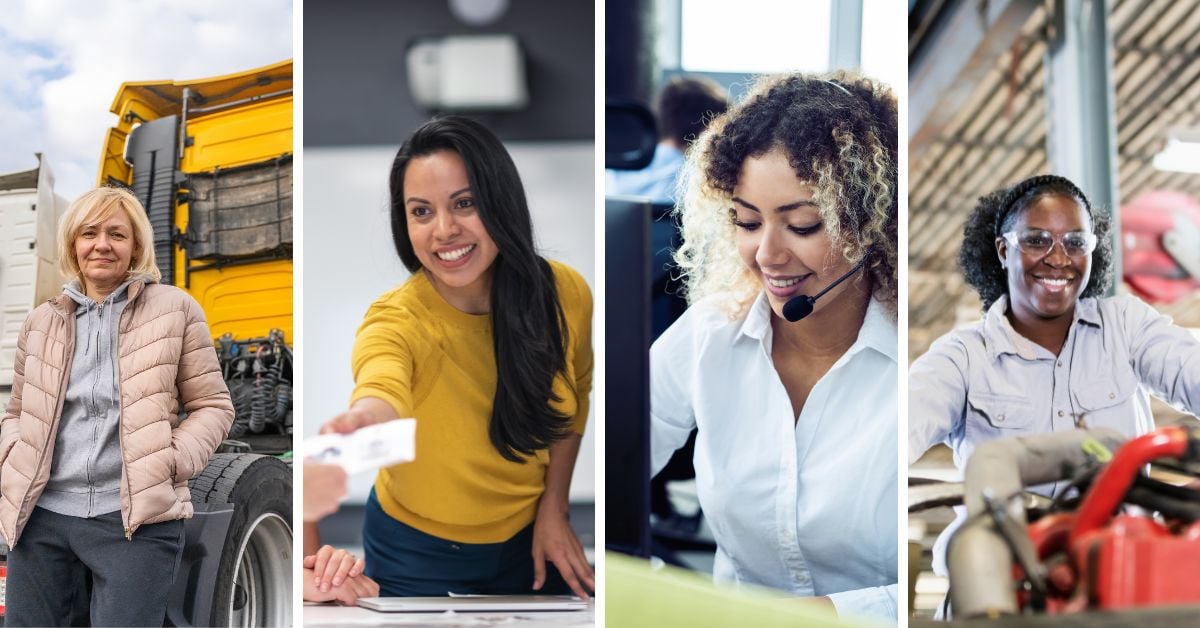 Many women say they want employers with a corporate culture supportive of gender diversity, flexible hours and work requirements to accommodate family and life balance, competitive compensation and benefits, training and continued professional development, and career advancement opportunities.
Yet, are companies in a male-populated industry such as transportation making the grade in these areas? The answer clearly is "yes" when one does an evaluation of approximately 100 organizations named to the 2022 "Top Companies for Women to Work For in Transportation" list as published by Redefining the Road, the official magazine of the Women In Trucking Association (WIT).
Identifying the companies on this list involves a two-step process, says Brian Everett, Group Publisher and Editorial Director for Redefining the Road magazine.
First, nominations of the companies are received and carefully reviewed to ensure they qualify by meeting a minimum threshold of qualifications. Then the final ballot of companies is voted on by individuals in the industry. This is the fifth year of this prestigious recognition program and it garnered more than 22,000 votes to identify the final companies named to the list. The momentum of this program has continued to accelerate since it was first launched in 2018.
From setting ambitious goals to hire and promote more women, to creating women-focused Employee Resource Groups, these companies are committed to the advancement of women in the workplace. Let's take a closer look the strategies and initiatives some of these organizations have deployed to strengthen their gender diversity.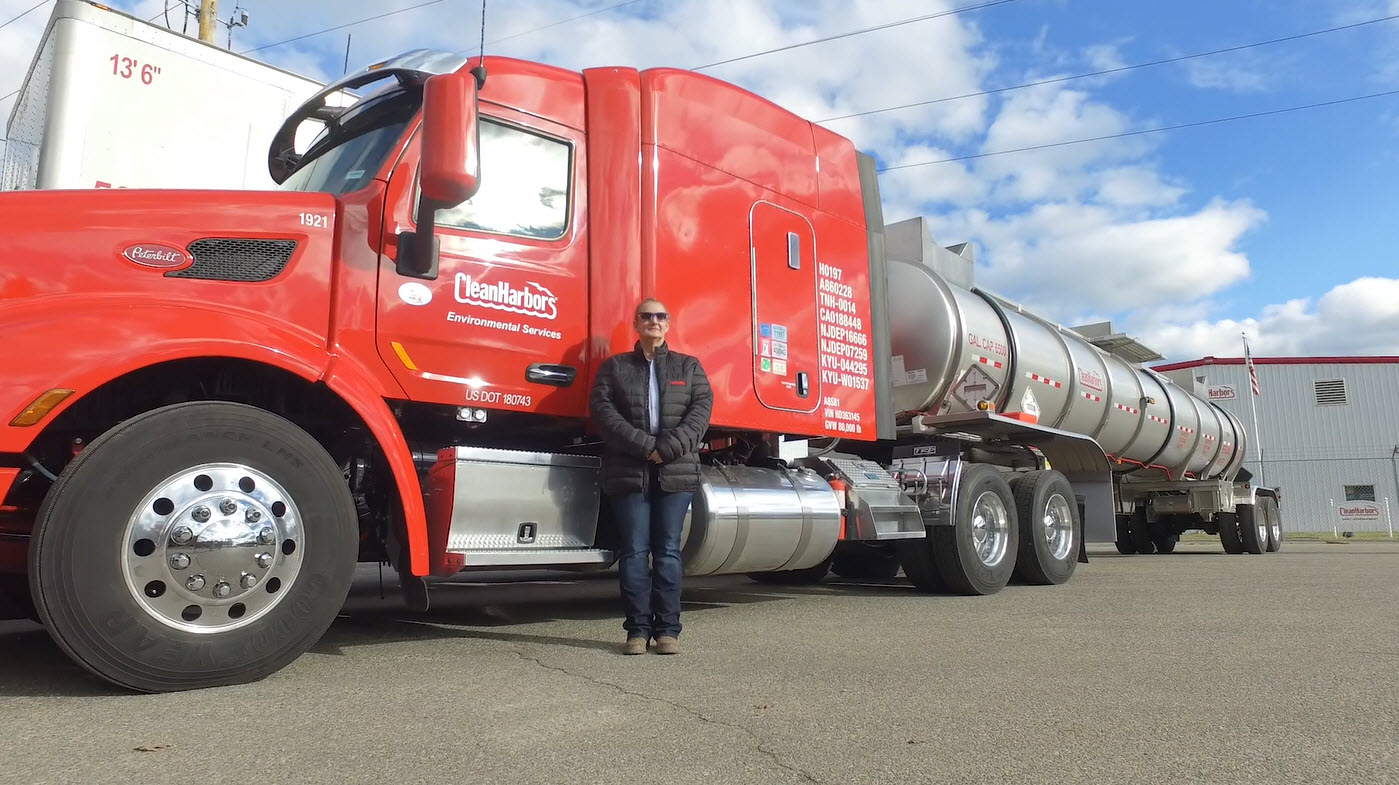 Moving Corporate Culture, Moving Boundaries
If their employers have a supportive, positive culture, females will thrive and so will productivity and business success. It's well-documented that companies successful in achieving gender diversity can create an "ecosystem" of measures and sustain it over time. The ecosystem usually includes top-executive commitment and sponsorship, individual development programs for women, and collective enablers such as key performance indicators and human resources process.
CFI, a provider of truckload, dedicated, temp-control, Mexico and logistics services based in Joplin, Mo., works hard through an ongoing initiative called She Drives CFI to build an environment where women feel safe, supported, and happy in their work environment.
"We ensure female drivers have female trainers, and we also offer a free guide to educate non-driving females on the career and industry," says Caitlin Powell, Digital Marketing Manager at CFI. "Our Vice President of Safety is led by Lisa Gonnerman and several of our executive seats are held by women as well." As a result, 14 percent of CFI's fleet drivers are women.
Bennett Family of Companies, based in McDonough, Ga., is one of the world's leading women-owned transportation and logistics companies. The cornerstone of efforts to make the company supportive of female employees is Bennett's Women in the Driver's Seat program, which recognizes women drivers for exemplary service, supports networking opportunities, and generates camaraderie through motivational speakers and events. In addition, Bennett's core values center around family where women can thrive in and continue to be successful, says Tamalyn Teems, PR Specialist at Bennett.
Bridgestone Americas, a leader in tires, diversified products and mobility solutions based in Nashville, Tenn., formed its DE&I Center of Excellence in 2022 to cultivate an inclusive culture that advances equity and embraces individuality. "We've set goals that support women in our workplace, focusing on diverse representation in leadership, as well as engagement, inclusion and retention indicators for underrepresented groups," says Debra Hamlin, EHSS Director, Commercial Tire at Bridgestone Americas.
Clean Harbors is a provider of environmental, energy and industrial services and the largest hazardous waste disposal company in North America. With more than 20,000 employees, Clean Harbors prioritizes creating a diverse and inclusive workforce in all lines of business. "Women here break barriers," says Angelika Mangino, Driver Recruitment & Engagement Manager at the company. "They haul hazardous material across the country and are on the frontlines performing emergency response services. Our Women's Employee Resource Group helps implement changes companywide – like adding female uniforms to the company catalog or constructing women's locker rooms in the field – and provides a space for females to support one another."
Based in Seattle, Wash., Convoy is a digital freight network that partners with trucking companies and shippers to move millions of truckloads, rethink freight fundamentals, and design innovative solutions that address supply chain inefficiencies. One of the company's core values is "Bring Out the Best in Others," which is a cornerstone to building the company's culture. In addition to having multiple women on the executive leadership team, the Women@Convoy Employee Resource Group cultivates an inclusive community within Convoy and serves as a source of learning, development and empowerment through networking, collaboration and opportunities to grow personally and professionally, according to Ken Jager, Internal Communications Manager at Convoy.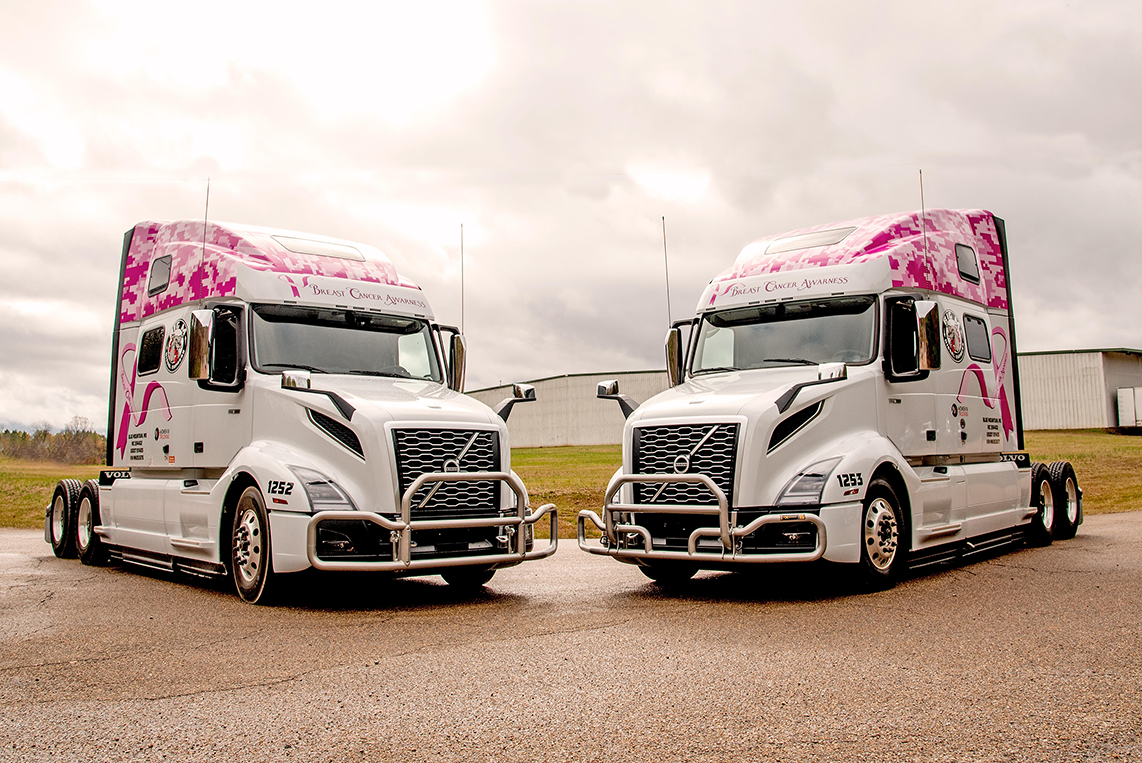 Giving Back to a Community that Matters to Women
Women want to be part of an organization that gives back to causes they care about. For example, Big M Transportation is a freight transportation and logistics company based in Blue Mountain, Miss. This past year, the company wanted to do something big to bring awareness to breast cancer and to honor those who have been affected by it personally. When industry partners Volvo Trucks USA, along with local Volvo truck dealer Tri-State Truck Center of Tupelo, Miss. agreed to create a unique and "unprecedented" special edition truck for breast cancer awareness, the company's CEO Michael Massengill jumped at the opportunity. He ordered not one, but two new Volvo VNL 860s in shimmering Glacier White, a contrast to the deep red color on the rest of Big M's fleet, and they were wrapped with a "Breast Cancer Awareness" wrap, complete with pink ribbons, and the signature "Big Dog" logo that emblazons the sides of every one of Big M's fleet of approximately 350 trucks.
"This is a different kind of monument, one that points to the hope of a cure for a disease that has far too long been allowed to take our mothers, our sisters, and our friends from us," says Lauren Freeman, Business Development Manager at Big M Transportation. "And if that isn't enough, these two trucks are already assigned to their new drivers, who are not only women, but who are survivors of breast cancer themselves. Big M is an amazing company, and our women employees take pride in working here."
Competitive Compensation and Benefits of Value
Equitable compensation, paid time off, healthcare benefits, family planning and caregiver benefits are just a few examples of what women look for in their employers.
Covenant, a Chattanooga, Tenn.-based provider of expedited, temperature-controlled, dedicated, and managed transportation services, offers tuition reimbursement, parental leave, and promotes wellness credit opportunities for female health screenings.
Arrive Logistics is a multimodal transportation and technology company that offers flexible work schedules, professional development opportunities and access to mentorship groups. Initiatives tailored to the female experience include a 12-week paid maternity leave, short-term disability coverage at no cost, Dependent Care FSA, paid-time off, affordable health insurance and onsite amenities like a lactation room and gym to better support employees in all walks of life. Arrive's Employee Assistance Program provides access to childcare, confidential counseling services, legal support, financial resources and more.
Cummins Inc., a global power technology leader, provides an inclusive and thriving environment for all female employees with fundamentals including flexible working arrangements to support hybrid work- family structures, extended paternity policies, and breastfeeding-friendly facilities and workplaces, according to Zach Gillen, President, Operations, Cummins Sales and Service. "Cummins also offers many continuing education and career development programs."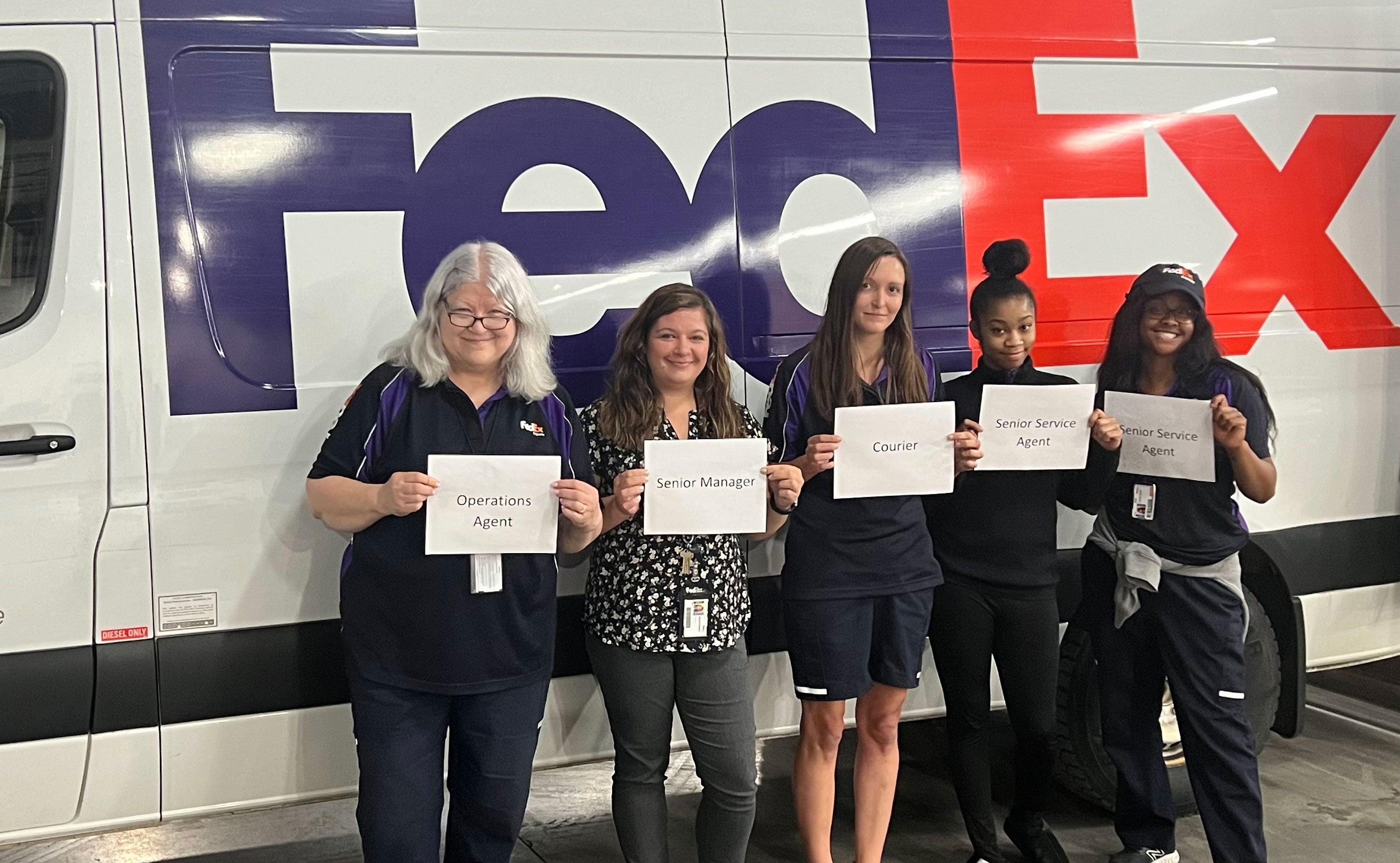 Ensuring Women Are Represented
Women want to work for companies where they can see other women who are excelling in their careers – and where their skills and expertise are recognized and promoted.
FedEx Freight hires and promotes employees based on merit, accomplishments, and skillsets – regardless of gender, according to Ron Mears, Communications Advisory with FedEx Freight. "We recognize exceptional women in our company each year through several award and recognition programs. FedEx Freight is an equal opportunity employer and proud to have a diverse workforce. Women work in every role across the company, including drivers, freight handlers, multimodal, leadership, and everywhere in between."
First Truck Centre is Western Canada's premier Freightliner and Western Star heavy-duty truck dealer. "We bring equity for woman to the forefront of our business," says Michelle Kwasny, Director of Fixed Operations. "Woman here are executives, managers, technicians, laborers, drivers, and administrative employees. Our programs, policies and culture encourage knowledge sharing, mentorship, continuous improvement, training, and career growth. Our Gender Equity Advisory Committee empower woman from all our locations to work on special projects that continue to change our business processes to be more inclusive and respectful for all our powerful performers."
Heavy- and medium-duty truck manufacturer Kenworth has made improving diversity and fostering inclusion a crucial business initiative, often seeking recommendations from the PACCAR Women's Association, according to Genevieve Bekkerus, Director of Marketing at Kenworth. "In addition to Kenworth's dedicated D&I council, executive advisory board, and ongoing D&I events, employee performance reviews now include employee-initiated goals to help prioritize D&I work within the company," says Bekkerus. "Kenworth promotes an inclusive environment where diverse perspectives and unique thinking are encouraged to develop the best ideas and deliver the best products to market."
Kenworth's parent company, PACCAR, also is committed to driving diversity and inclusion across its divisions. Diversity Councils foster an inclusive workplace culture through events and training while raising awareness amongst employees. The PACCAR Women's Association and its chapters provide networking, education and mentoring opportunities to develop female talent within the organization. "Through impactful community outreach we emphasize to the next generation of engineers, technologists, innovators, and business professionals how to take advantage of excellent career opportunities at PACCAR," says Blanka Kopacz, Director Aftermarket Purchasing at PACCAR.
Palmer Trucks, a full-service Kenworth Dealership network serving Ohio, Indiana, Kentucky and Illinois welcomes and trains women from all backgrounds in dealership roles, according to Cameron Nichols, Marketing Manager. "Many women have progressed to departmental and regional management roles," she says. "Women participate in DEAI initiatives and embrace Palmer's 'We Travel Together' DEAI philosophy—welcoming and embracing all while working to educate colleagues and understand others' unique contributions. Palmer women also actively mentor and uplift fellow female colleagues. Backed by senior leadership support, women take advantage of flexible scheduling and training opportunities to advance their careers in trucking while caring for their families."
The largest operators of travel centers, Pilot Travel Centers, employs more than 28,000 employees – and more than half are women. "From leading stores, to managing multi-billion-dollar budgets, to hauling fuel across the country, having diverse voices and perspectives of women in historically male-populated areas are crucial to our success," says Robert Leach, External Communications Specialist. "Team members receive paid parental leave, mentoring, career development, and opportunities to support each other through resource groups like Women's Network."
Read the official announcement: Women In Trucking Association Names 2022 Top Companies for Women to Work For in Transportation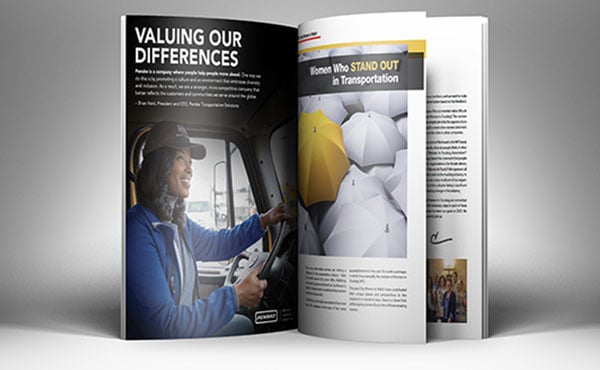 This article was originally featured in Edition 3 of 2022 in our official magazine, Redefining The Road.
Like this kind of content?
As a member of the Women In Trucking Association, stay on top of emerging trends and business issues impacting transportation, logistics, and supply chain operations, learn the importance of gender diversity in the workplace and the need for more women drivers, and see best practices in encouraging the employment of women in the trucking industry. Learn More