National Transportation Institute Day of Service Inspires Girl Scouts to Learn About Trucking
by National Transportation Institute, on Sep 4, 2019 11:23:00 AM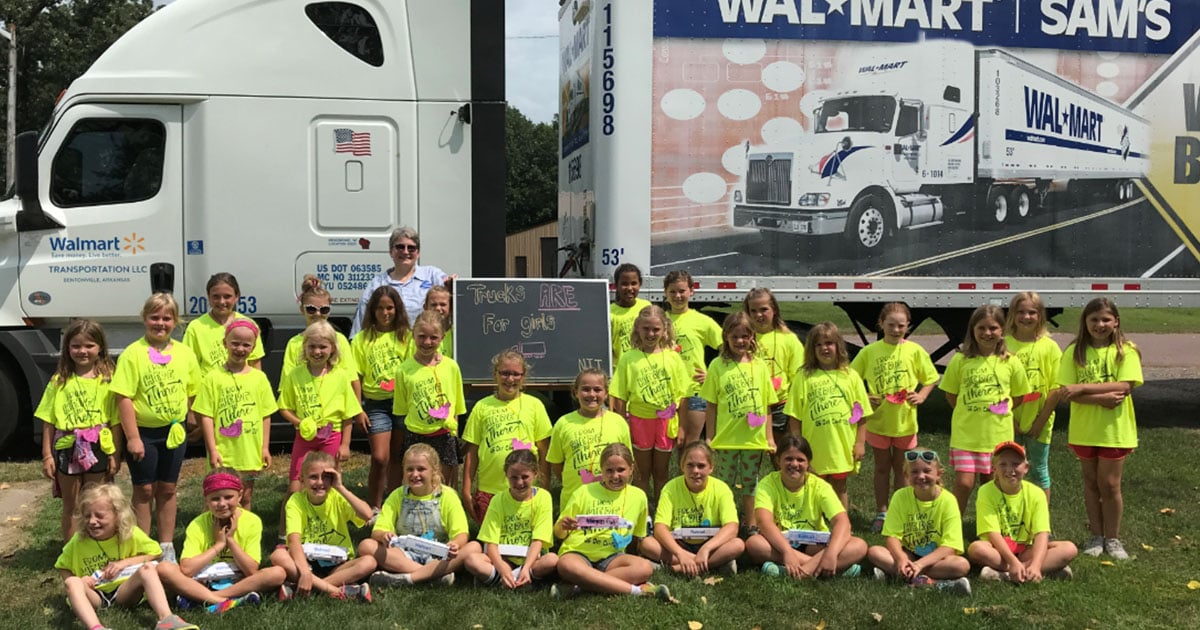 On Monday, August 5, 2019, the National Transportation Institute (NTI) served as the host to a group of Girl Scouts for an education event called Trucks ARE for Girls! that took place in New Ulm, Minnesota, which is located about 100 miles southwest of the Twin Cities. The Girl Scouts, who ranged in age from six to ten years old, enjoyed a full day of activities that included learning about trucking's role in the supply chain and the industry's focus on safety.
NTI's Leah Shaver – Chief Operating Officer, accompanied by Kelli Kral – Business Intelligence Analyst, and Angel Schaffer – Business Development Manager who reside in the New Ulm area, oversaw the development of the event, which had been selected by NTI's employees as a volunteer day of service for the company. NTI secured the participation of Walmart, which provided one of its esteemed drivers as well as a truck and a trailer that featured decals detailing how to safely operate around big rigs on the highway.
The activities for the day – highlighted by putting together a cardboard model truck, learning about the Girl Scout cookie supply chain with NTI's COO Leah Shaver and touring the truck with Walmart driver Annie Varnes– allowed each of the event participants to earn the Girl Scout Transportation Patch. The Transportation Patch was developed by the Women In Trucking Association in cooperation with the Greater Chicago/Northern Indiana Girl Scouts to introduce young women to careers in transportation. As a member of the Board of Directors of Women In Trucking, Leah is very familiar with the Transportation Patch and "Scouting For Cookies," Supply Chain Activity Book and was able to incorporate the curriculum into the day's activities.
"This was the first time we organized an event like this, and we were thrilled with the way everything worked out. It was so exciting and rewarding to see how the girls were eager to learn about everything we shared with them about the trucking industry," said Leah. "Of course, the best part of the day was watching the girls climb aboard the truck, pushing buttons and honking the horn, viewing the engine and peering inside the trailer with excitement."
Leah, as well as everyone participating the event, was particularly impressed with the driver that Walmart had selected to come to New Ulm. Leah noted that Annie made a special run to New Ulm from Menomonie, Wisconsin, and it was Annie's first day back on the job after some time off to care for family members. While she has been behind the wheel for Walmart over the past two years, Annie has amassed eight years of professional driving experience after being laid off from the automobile industry during the last recession and finding inspiration from a female driver friend. Leah observed that Annie possessed a unique ability to connect with the Girl Scouts and what she shared about the industry resonated with the event participants.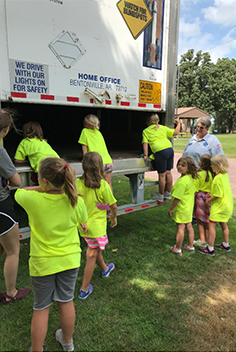 "We are so grateful for Walmart's support of this event, especially their choice in Annie. I cannot say enough about what she added to the entire day. She worked with us in the planning of what we would share with the kids and how she wanted to participate," said Leah. "She had a true enthusiasm for what we were doing, and she was so sweet and so professional in everything she did. Annie was focused on safety at all times, and she really connected with the girls, especially when she talked about her life on the road and how their parents and families should drive around big trucks to avoid being in blind spots. The girls found Annie to be very awe-inspiring."
After the day's activities learning about the trucking industry role in supply chain, NTI provided each of the event participants the Girl Scout Transportation Patch, a Scouting for Cookies Activity book published by Women In Trucking in 2018, and a travel case with various accessories that come in handy while working as a truck driver, including a wristband to hold keys, water bottle, encased sunglasses, and magnets with empowering terms such as talented, proud, determined and trailblazer. In the activity book, the reader follows a young girl, Adelynn, through the supply chain to understand where cookies come from. She learns how often a truck is used to move goods throughout the supply chain. Activities in the book include coloring, drawing, word search, math, geography, and much more! Leah noted that the day made an impact on the Girl Scouts and it inspired NTI to look at developing more volunteer service days in the future.
"In our industry, women comprise fewer than 8% of the driving workforce and fewer than a third of management positions, many companies without women in these key roles at all. Early introduction and regular engagement with young girls could change that outcome in the future, as we regularly find today that the companies with the highest percentages of women in their workforce are led by women, provide support for women and promote the mission of WIT with action embedded in culture of the organization. Along with introducing our local Girl Scouts to trucking and getting a look at the supply chain from the perspective of their own cookie delivery, I believe this event may inspire them to think about careers that might not be as gender-specific as they've always been," said Leah. "I know that Annie left a positive impression on them. When the event ended, they were saying, "Thank you, Annie,' in a chorus, while working on craft projects including assembling and decorating their own Walmart tractor-trailer. Everyone was energized by the day. I'm confident we'll continue seeking future opportunities to serve and give back to the communities where we live, including those that encourage our future workforce especially young girls, to consider their own fine potential with opportunities abound in Trucking."
Interested in hosting an event with your local Girl Scouts? Contact Lana for more information.