Nominate: Female Veteran to Join WIT Driver Ambassador on Wreaths Across America Trek
by Kellylynn McLaughlin, on Nov 4, 2020 2:08:46 PM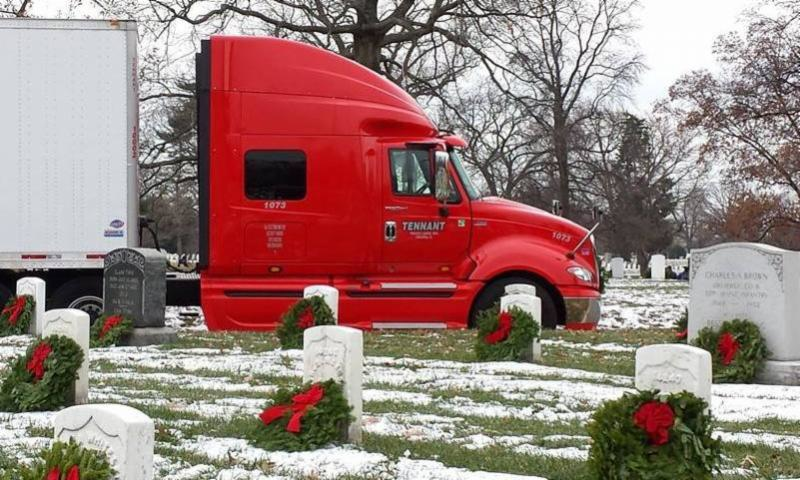 Photo Via Fleet Owner
Every December, Wreaths Across America coordinates wreath­-laying ceremonies at more than 2,100 locations across the United States, at sea and abroad to remember and honor service members who have sacrificed their time and safety to preserve our freedoms.

This year, WIT Driver Ambassador Kellylynn McLaughlin will be picking up a load of wreaths in Maine and delivering it to Texas.

To honor a female veteran who has served, we are seeking a female veteran from the Boston area to accompany Kellylynn on part of her journey! Get an up close and personal experience of what it's like to ride in a cab of truck, see the wonderful views from Boston to Maine, and be part of the famous and meaningful Wreath Across America program.
The Journey:
December 7: Pick-up in the Boston proper area.
December 8: Load in Columbia Falls, Maine where Kellylynn and her guest will be treated to a tour of the tipping land, tour the museum and join in at the driver lounge as the truck is being loaded.
December 9: Drop-off back in Boston.

Kellylynn will then make her way to her final destination in Texas to deliver the wreaths.
Requirements include:
Female Veteran
Live in Boston proper area
Be able to climb in and out of the truck
Negative Covid test prior to trip
Handle a 5-hour journey with no rest break
Nominations are now closed and a decision will be made by November 30th.