by Michele Wade, on Aug 19, 2020 9:20:41 AM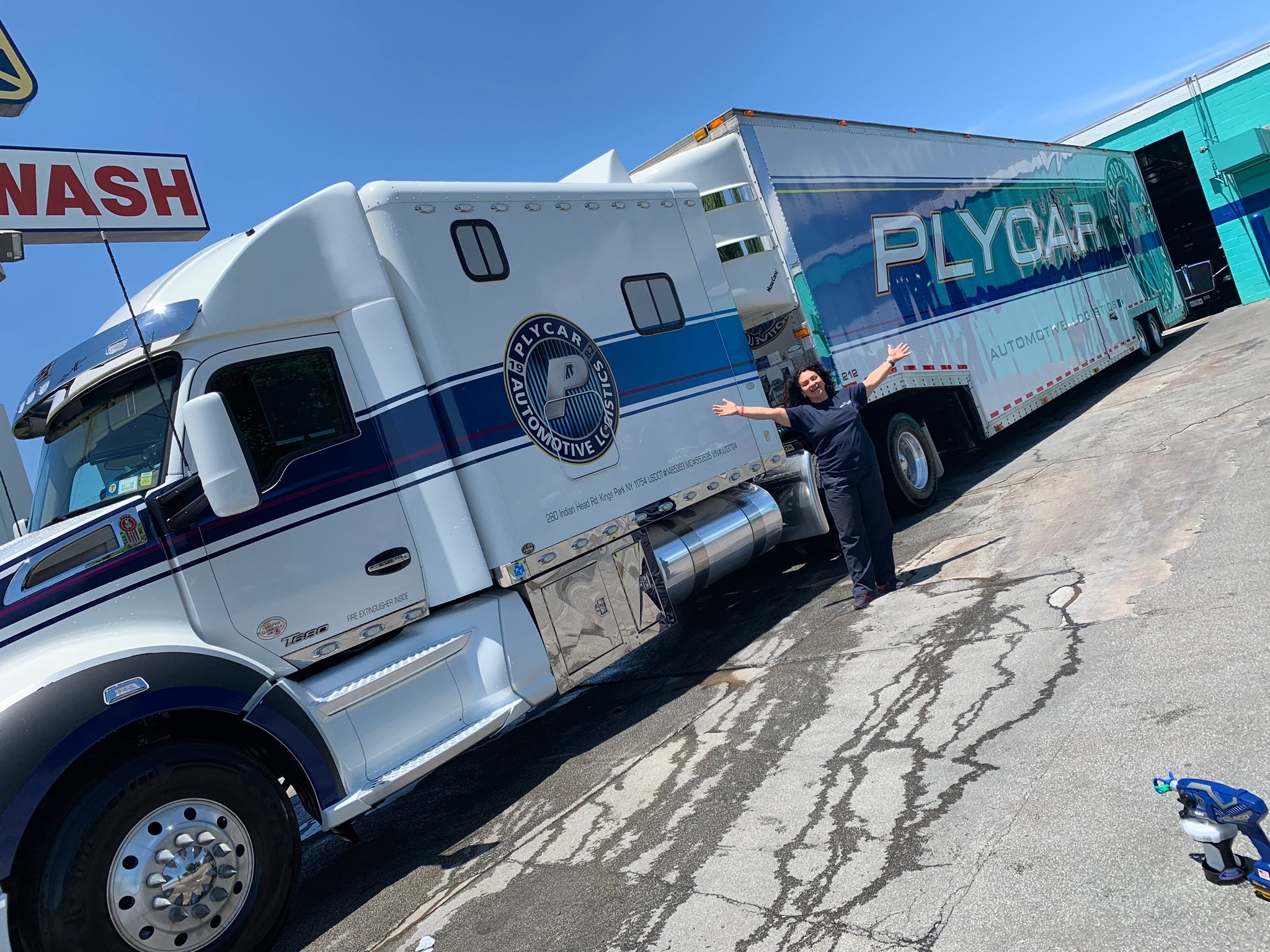 "I'm a third-generation lady trucker. I grew up in trucks," Jacinda Duran proclaims proudly. Following in the footsteps of her mother and grandmother, who were both truck drivers, she launched her own career in the industry 10 years ago. Duran began driving for FedEx Express as a courier but transitioned to big rigs in 2014, handling a local overnight run while her children were growing up. When they moved out, she decided to broaden her horizons and began driving over-the-road for Plycar Transportation a year and a half ago.
Mastering New Skills
Through a six-week training program, she became the company's first solo female driver, transporting high end, one-of-a-kind cars via an enclosed car carrier. "I'm very proud of what I do. It's a hard job and requires a lot of precision," Duran says, explaining that, when loading and unloading the cars, there's just an inch or so of space on each side. "Getting in and out of the cars once they're in the trailer is the hardest part!"
Life on the Road
Duran thoroughly enjoys delivering cars across the country. "The freedom is addicting. I can go anywhere, do anything. Every day, I wake up somewhere different," she says. Duran's truck is home, year-round, for her
and her canine companion, Miles. She recently adopted the lab-retriever mix from Mutts4Trucks. The puppy quickly adapted to life on the road, and Duran is grateful for the companionship. The two share a 10'x10' "big bunk" sleeper cab, complete with kitchen, bathroom and shower.
Weathering the Pandemic
The roomy quarters served them well during the recent coronavirus outbreak. Duran opted to stay in her truck (even though Plycar covers hotel stays) because she felt that it was safer and more sanitary. Since her cab is equipped with a kitchen, she has avoided the challenges many truck drivers experienced in finding food on the road due to shutdowns. She makes her own sanitizer by adding alcohol to packages of baby wipes.
Water, however, was another story. With many stores limiting purchases of bottled water, she often has had to plead for an exception in the checkout lane. "That's a real issue when you're living on the road," she points out. Overall, however, Duran has approached the pandemic with a sunny disposition, choosing to see the positives – less traffic, fewer accidents, faster drop offs and better air quality. Duran is thrilled with her new career and shares her experiences on social media channels as Jacinda Lady Truckin. "I'm living my second 'best life,' and I love it!" she raves.
This article was originally featured in Edition 2 of 2020 in our official magazine, Redefining The Road.
Like this kind of content? As a member of the Women In Trucking Association, stay on top of emerging trends and business issues impacting transportation, logistics, and supply chain operations, learn the importance of gender diversity in the workplace and the need for more women drivers, and see best practices in encouraging the employment of women in the trucking industry. Learn More