Recruiting the Younger Generation: An Industry Perception Problem
by Women In Trucking Staff, on Aug 17, 2021 7:17:02 PM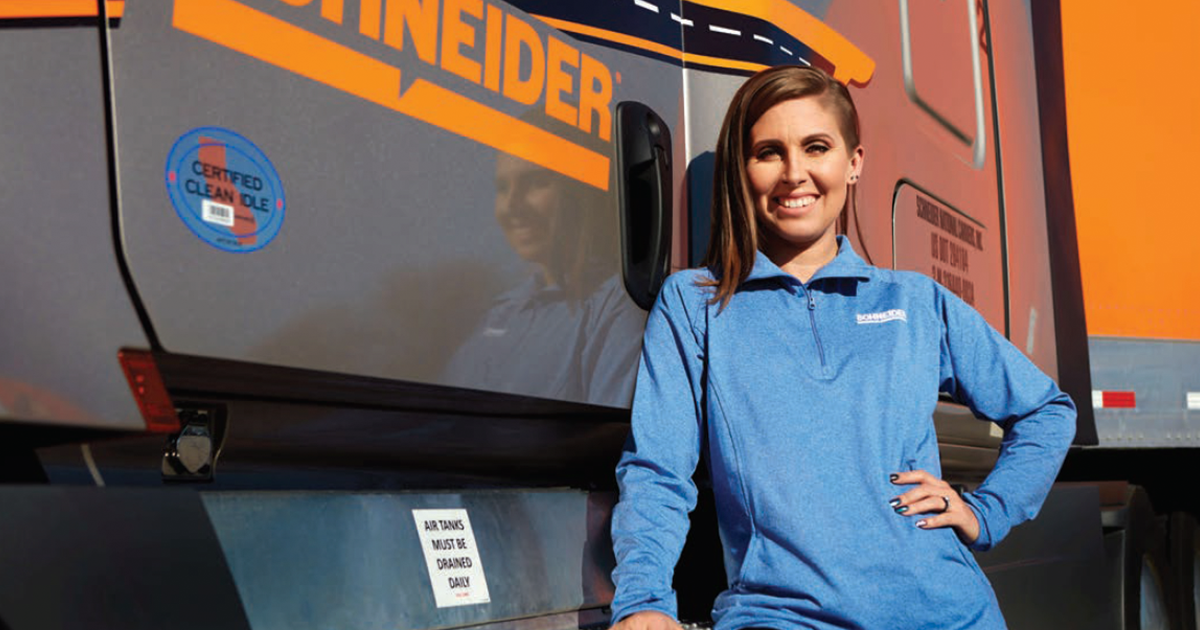 Photo: KayLeigh McCall, Schneider
In 2016, Millennials became the largest portion of the American workforce, overtaking both Gen-Xers and Boomers. As the transportation industry faces record-breaking labor shortages in the next few years, and with the average age of truck drivers inching closer toward retirement, it's critical to start recruiting the next generation of transportation professionals now.
Labor shortages in transportation are nothing new. According to the Bureau of Labor Statistics, there will be 108,400 new trucking jobs to fill by 2026. To put that in perspective, there are currently 3.5 million truck drivers, which includes approximately 500,000 long-haul drivers. The shortage is staggering…and getting worse. Gen-Xers currently make up the largest portion of owner-operator drivers, and while we've seen exponential growth in this area from Millennials — they overtook Boomers in 2019 to become the second largest group in this category — this group isn't keeping pace with Boomer retirements. With good pay and incentives, what's holding back younger drivers? In a word? Perception.
The Perception Problem
From the outside looking in, the perception of the transportation industry being a boys' club isn't far from the truth. The average age of truck drivers is 55 years, and women comprise a paltry 10-percent of the total driver workforce. Many drivers live in their trucks while they are away from home for days on end doing work that can be physically, emotionally and mentally taxing, limiting the profession's appeal to the tech-savvy generation.
As with many large-scale problems, the solution can often be found within the problem itself.
Millennials value good, solid work, just as Boomers did back in the day. Money also is important to them, although it's less of a motivating factor than it was to past generations.
While younger workers aren't afraid of hard work, they're significantly less tolerant of jobs that take over their lives. Jobs are important to them, but so is living a happy and fulfilling life. If there is tension between the job and joy in life, joy will win out most times. Therefore, the perception of the solitary and sedentary lifestyle of the stereotypical truck driver is the elephant in the room that's demanding attention.
How to Reach the Next-Gen Truck Drivers
While the job will always demand long hours and be physically and emotionally draining, focusing on other parts of the job such as travel and interesting experiences might just be the ticket to recruiting the next generation of drivers.
One way to appeal to Millennials and Gen-Z, especially women, is to focus on creating comforts on the road and making sure drivers feel comfortable doing their job. Biases against females is still an issue in the industry and that's not going to fly with prospective millennial employees, man or woman.
While many in the industry will blame the driver shortage on pressures of government regulations, younger drivers are more concerned about the quality of their cab, the treatment they receive from fellow drivers and employers, and finding a safe place to park for the night.
When it comes to recruiting, using YouTube and other social media is pretty much a requirement if you want to reach this younger generation. A whopping 62 percent of millennials report using social media in their job searches.
That's one of the reasons the Maine Motor Transport Association is using TikTok, YouTube, and Instagram as primary vehicles in their "Go Your Way" campaign. To battle the growing driver shortage, the campaign, which launched only a month ago, aims to educate and attract workers born in 1997 and after by sharing driver stories. While they don't sugar coat the difficulties of the job, they primarily focus on the parts of the career that appeal to a younger generation.
While there's no quick solution to filling driver seats being vacated by Boomers, these innovative approaches might just make all the difference in getting younger, qualified drivers re-engaged with life on the open road.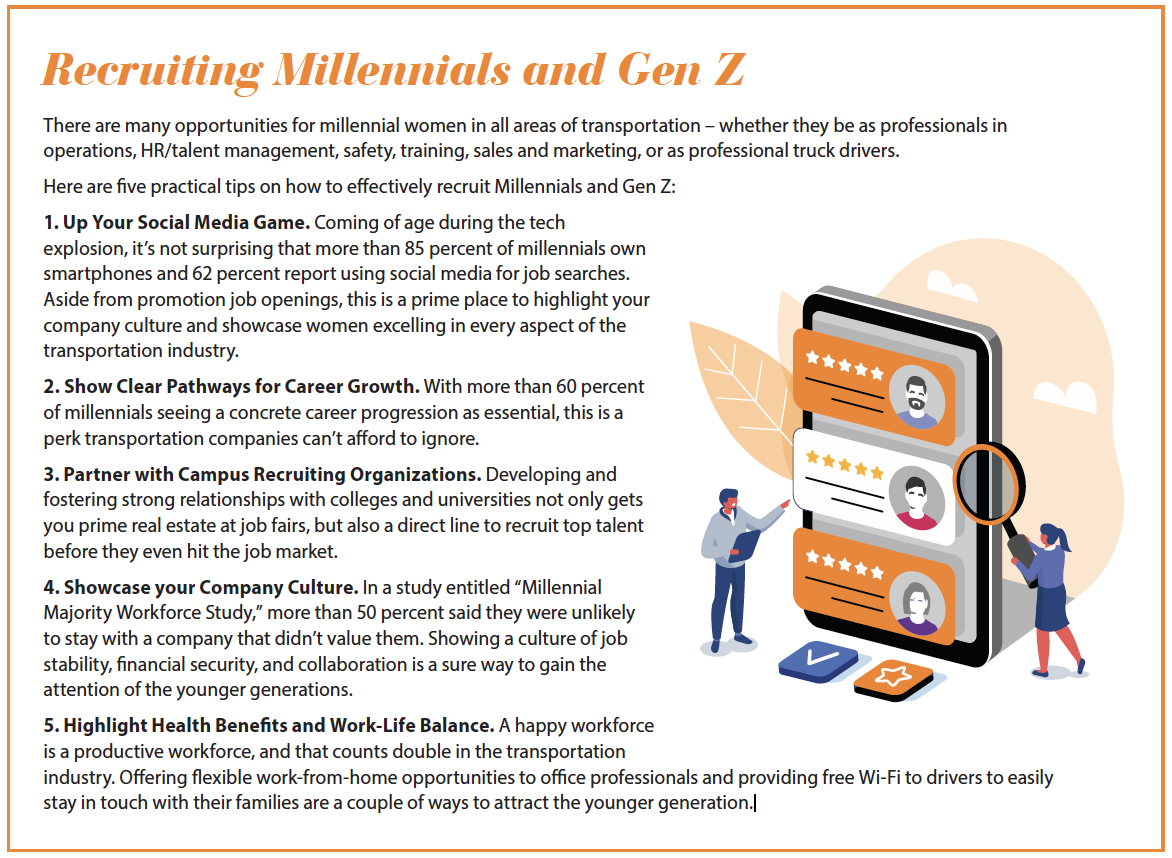 This article was originally featured in Edition 2 of 2021 in our official magazine, Redefining The Road.
Like this kind of content?
As a member of the Women In Trucking Association, stay on top of emerging trends and business issues impacting transportation, logistics, and supply chain operations, learn the importance of gender diversity in the workplace and the need for more women drivers, and see best practices in encouraging the employment of women in the trucking industry. Learn More