Redefining the Truck Driver Job Description
by Fran Bernard, on Feb 20, 2023 2:54:38 PM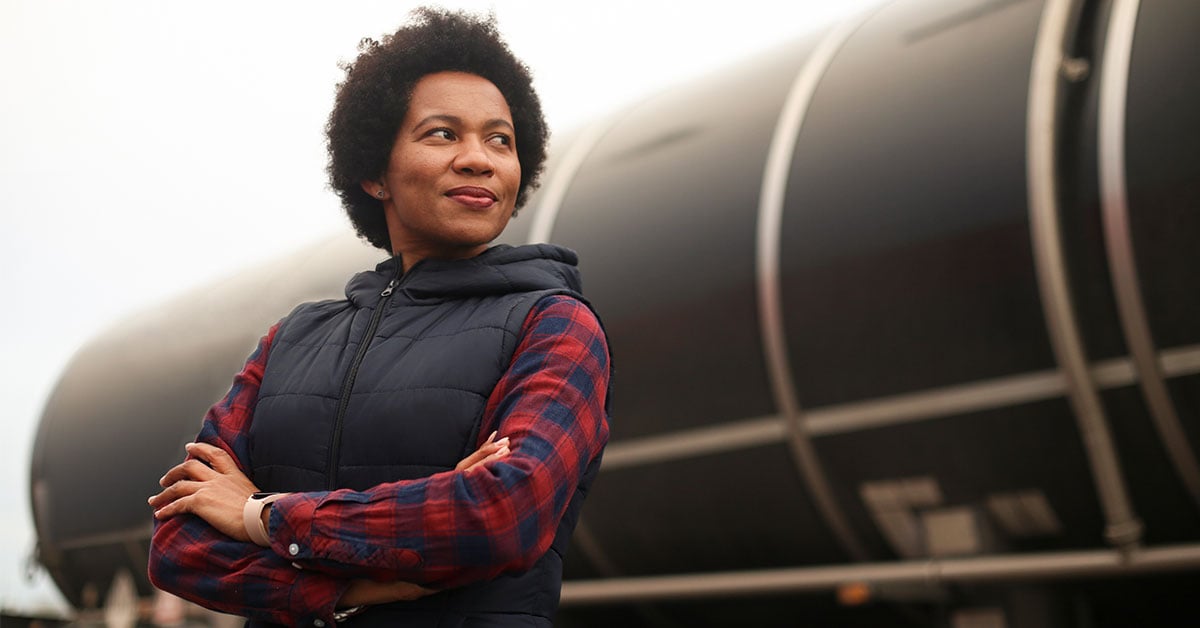 Have you ever wondered what exactly is the job description of a truck driver? Has it changed over the years? The origin of truckdriver was first recorded in 1890-95. Truckdriver (truhk-drahy-ver) noun, a person who drives a truck.
In 1910 there were only about 10,000 trucks in the whole country. At that time most were used strictly around the large metropolitan areas for deliveries. In 1916 the Seattle Chamber of Commerce sponsored a truck driver to drive from Seattle to New York City. It took a total of 31 days to complete the trip. By 1930 there were 329,000 long-haul trucks registered in the country. During the 1950's, diesel fuel was only 14.9 cents a gallon. jobmonkey.com/truckdriving/trucking-jobs
Many things have changed for the good since that time. For one, we can now drive from Seattle to New York City in 42 hours and 5 minutes. Without the $25 billion in funding towards a 20-year construction plan to build highways back in 1956, the trucking industry would be very different today.
After the 911 attacks there was a major shift in government enhanced security regulations on shipping. A HazMat license requires background checks and more testing to be able to transport hazardous materials than it used to. There have been so many changes along the way with trucks, wheels, roads, training, and even job descriptions.
With 3.5 million people employed as truck driving professionals, what exactly is the job description for a truck driver today? It's a lot more complicated than it use to be. There are many different descriptions. A truck driver's job description is not just about delivering freight from pick-up point to destination anymore. It takes skill, a good driving record, and knowledge to become a safe, competent, professional truck driver.
Truck Driver Job Description:
It is common knowledge that the world of occupations is highly complex. Within every job, there are many subdivisions. The same is true for truck drivers. Their realm is also quite diverse: for example, among truck drivers, there are a lot of categories depending on the truck type, what is being hauled, and distance of the load.
Truck Drivers are responsible for transporting supplies and goods between retail, distribution, and manufacturing facilities. Some may also work in customer service and sales. Additionally, their responsibilities would include doing basic repairs and assessing the vehicles for technical or mechanical concerns that could affect their safety and the safety of others. All goods should be delivered to the clients safely and on time.
It is necessary to hold a commercial driver's license (CDL-A), be able to pass a Department of Transportation (DOT) physical and drug screen and have a clean driving record to be considered. ncesc.com
Route Truck Driver Job Description:
Route drivers deliver and sell goods from their vehicles while dealing directly with customers, delivering goods or services on either a retail or wholesale basis.
Drivers are responsible and can be trusted to work independently. The products need to be delivered on time, and the route driver needs to make sure all items are intact. Emphasis will be put on having good driving and planning skills as well as being physically fit and working independently.
The driver must be able to load and unload goods efficiently and carefully from the moment they are received until they reach the customer. Additionally, one must be able to read and work out the route, how many stops you must make, and planning your trips to save fuel and time.
If you are a route driver that is hauling waste and hazardous materials, it is necessary to carefully follow all local and federal laws, including checking that cargo is secured safely before transporting.
Keeping the vehicle maintained and everything that goes along with the safety of the truck is extremely important. If the vehicle breaks down during your shift, you will lose time and money. It is always very important to do a pre-trip inspection.
Tractor-trailer Truck Driver Job Description
Tractor-trailer truck drivers transport goods from one location to another. Most tractor-trailer drivers are long-haul drivers and operate trucks with a total weight exceeding 26,000 pounds for the vehicle, passengers, and cargo. These drivers deliver goods over intercity routes that sometimes span several states. The main duty of this role is to be able to drive safely for long periods of time. You need to be prepared to drive long distances.
There must be a strong awareness of safety requirements and regulations. You must be able to pass a Department of Transportation (DOT) physical and drug screen. You must be physically fit in case you are required to load/unload your truck.
To start this career, you must be trained. There are many professional truck driving schools throughout the United States. They will train you on Department of Transportation (DOT) rules and regulations, driving in the city, on the highways, how to park, everything needed to be able to drive a tractor-trailer. Upon completion of the course, you will have to pass your final road test to receive your CDL-A.
Normally you will receive additional training with the company you go to work for. You will ride and drive with a trainer from the company that can give you additional information about the truck you will be driving, your routes, and the goods you will be transporting for your company.
Most tractor-trailer truck drivers' routes are assigned by a dispatcher, but some independent drivers still plan their own routes. When planning routes, drivers must take into account any road restrictions that prohibit large trucks. Drivers also must plan legally required rest periods into their trip.
There are companies that use two drivers, known as teams, on long runs to minimize downtime. On these team runs; one driver sleeps in a berth behind the cab while the other drives.
Certain cargo requires drivers to adhere to additional safety regulations. Some truck drivers who transport hazardous materials, such as chemical waste, must take special precautions when driving and may carry specialized safety equipment in case of an accident. Other drivers, such as those carrying liquids, oversized loads, or cars, must follow rules that apply specifically to them.
Some long-haul truck drivers, also called owner-operators, buy, or lease trucks and go into business for themselves. In addition to their driving tasks, owner-operators have business tasks, including finding and keeping clients and doing administrative work.
Heavy and Tractor-trailer Truck Drivers : Occupational Outlook Handbook: U.S. Bureau of Labor Statistics (bls.gov)
OTR Driver Job Description
The OTR (over-the-road) truck driver is a synonym for "long-haul trucker". They stand out from other truck drivers as they cover long distances within the United States and can even haul freight to Canada or Mexico. The drivers typically cover around 2,200-2,700 miles a week. OTR trucking is an industry with very high demand as of late. Without it, many aspects of life as we know it would not be able to exist. As such, there are ample opportunities for capable truckers in the OTR world.
Regional Trucking
Regional trucking is only based in a portion of the country, usually within 1,000 miles. However, these long driving times are still shorter for regional truckers when compared to OTR truckers. As such, as a regional trucker, one of the biggest appeals is that you can expect to have weekends off as a regional trucker and be able to be home and with your family.
Local Trucking

Local trucking is very different from both regional and OTR trucking. As a local trucker, you would be home every night, and on average, you'd be working within a 200-mile radius.

While local trucking comes with its own challenges, such as driving on fewer highways and far more back roads, local trucking does offer a steady schedule with more time off.

OTR trucking is a vital piece of the American infrastructure. Without it, all production and consumption would grind to a halt as grocery stores would have empty shelves, factories would have no new supplies and America would virtually come to a standstill. The vital need for trucker drivers is now obvious, and opportunities are plentiful.

The job of an OTR driver requires driving across distances carrying the load in a truck. They are responsible for delivering the load undamaged, and on time to the customer. They are required to place the right placards on the goods whenever they are carrying hazardous materials or oversized cargo of any kind.

The successful OTR driver is aware of all the different routes on the way to their customers. They have knowledge of road safety and regulations.

They must be excellent with time management and organizational skills. Their focus should be on doing their job well. They need strong problem-solving skills and excellent communication skills as well.

With the current and ongoing supply chain issues, truckers are in high demand. This means that if you can complete your jobs, there is no chance that you will not have work. Also, with America being the consumption-based market that it is, there will always be a major need for truck drivers.

As an OTR trucker, you won't have to handle any of the loading or unloading processes for the cargo you'll be carrying, no matter what the cargo may be.

In fact, cargo handlers take care of loading and unloading at both ends of the trip. All you must worry about is getting your load from point A to point B!

As you can see the job description over time has changed considerably since, "a person who drives a truck". It is not just getting in and driving a truck anymore. You need training, skills, and understanding of what the truck driving jobs entail to be able to fully decide which one might be the right fit for you. All the truck driving job descriptions vary at least a little. No matter what the job description is for the type of truck driving job you may be looking for, we appreciate all that truckers do.

In September, there is a National Truck Driver Appreciation Week starting back in 1998. This event highlights the work of our safe truckers throughout the country. Sometimes the American public need a little reminder that without truckers the economy, and our day-to-day lives, would be very different. Truckers all over the United States appreciate America showing their gratitude during this time each year.
Like this kind of content?

As a member of the Women In Trucking Association, stay on top of emerging trends and business issues impacting transportation, logistics, and supply chain operations, learn the importance of gender diversity in the workplace and the need for more women drivers, and see best practices in encouraging the employment of women in the trucking industry. Learn More