by Michele Wade, on Apr 20, 2021 4:28:14 PM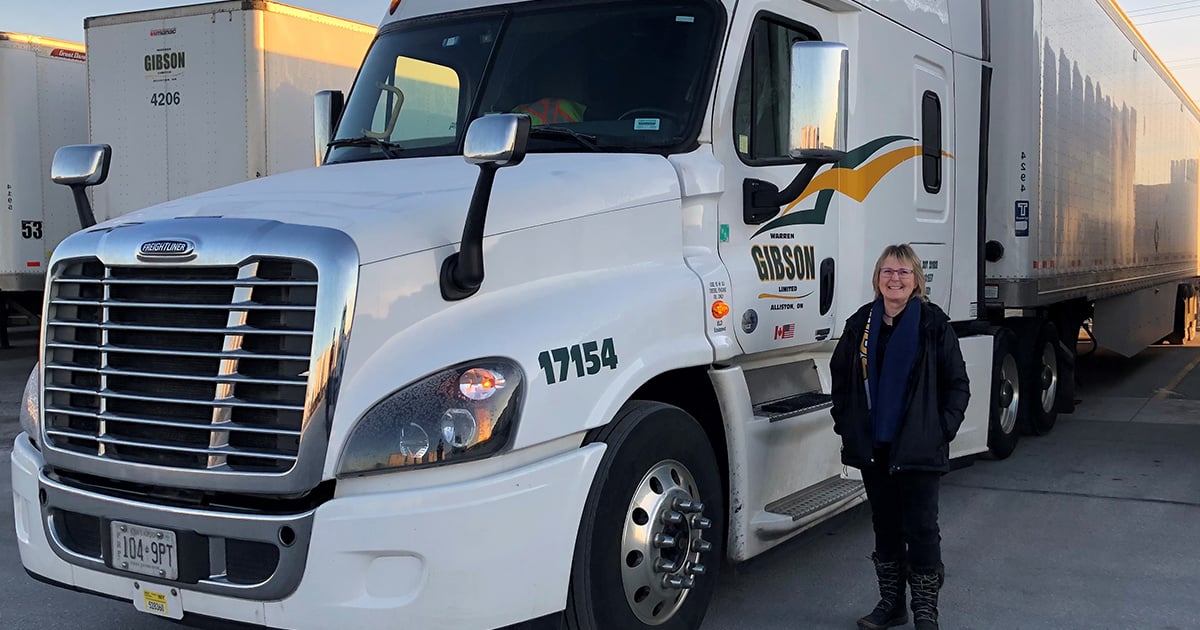 After more than 30 years on the road, Barb Duncan knows a thing or two about safety. Today, she is a professional Driver and Trainer for Warren Gibson Transport and a member of the Women In Trucking Canadian Image Team. When Redefining the Road caught up with her recently, she shared a host of safety tips to help other female professional drivers.
Do Your Homework
Start by seeking out a safety-minded workplace. Duncan stresses the importance of due diligence before taking a position with a new company. "Really research the company you want to drive for," she says. "What is their track record for safety? How old are their trucks? Do they have a lot of maintenance issues?"
Proper training is also important. Duncan recommends asking about a prospective employer's training practices. "Lack of training is a huge issue today, and it can result in serious safety issues," she says. "Make sure they offer on-going training – with female trainers."
Be Prepared
Good safety habits begin before a driver even gets into her truck. Duncan advises doing a thorough pre-trip inspection daily to reduce the chance of a breakdown. Check tires, headlights, oil, washer fluids, air lines, clean mirrors, etc. "A lot of drivers complain about doing inspections, but they're really for your safety," she explains. "If you need to make repairs, it's much better to make them in a controlled area, on your terms, rather than out on the road."
Planning your route in advance is also important. "Don't rely 100 percent on your GPS," she says. "Compare routes with the map app on your phone or a paper map."
To minimize the need to stop for food, Duncan pre-packages meals and snacks in advance of each trip.
Stay Alert
Once on the road, personal safety should be top of mind. "Always be cautious and aware of your surroundings. Carry a phone with you at all times," Duncan says. "Personally, I don't leave my truck at night. I make sure to get fuel and shower mid-day." When possible, she opts to spend the night at customer sites or rest areas.
While she has not been formally trained in self-defense, Duncan has learned a few simple defensive techniques, and she always carries a heavy metal travel mug that could be used to help ward off wouldbe attackers. (In Canada, truck drivers are restricted from carrying firearms or defense weapons.) The right attitude is also essential. "You need to give off an aura – have fire in your eyes," Duncan says.
Stay Informed
A variety of technology tools are available to help ensure safety on the road. Duncan keeps her CB radio on at all times and downloads 511 apps for states that she travels in regularly for real-time traffic information. The Trucker Path app helps with finding truck stops and checking parking availability.
She also monitors the Weather Network and Google Maps regularly. "It's good to stop and stretch every two to three hours and check roads and traffic. That way you can adjust your route if you need to," she explains. "Just going 20 miles out of your way might help you avoid a storm, road construction or traffic delay."
Duncan also relies on the powers of observation. "In the winter, for example, pay attention to on-coming truck traffic. If you see snow spray on most of the vehicles coming your way, you will know there's snow up ahead," she says. "Talking to other drivers can also be helpful."
Be Courteous
Duncan encourages all drivers to be courteous on the road and tries to be a good role model. For example, when another truck wants to pass her, she slows down and lets them do so safely. "A lot of companies have now capped truck speed at 60 to 65 miles an hour," she explains. "It only takes a couple of seconds to slow down and allow another truck to pass safely. It's a good defensive driving habit to get into."
With thorough training, careful planning, the right tools and a healthy dose of caution and courtesy, Duncan has safely enjoyed a driving career for more than three decades. Follow her lead to be better prepared for the road ahead.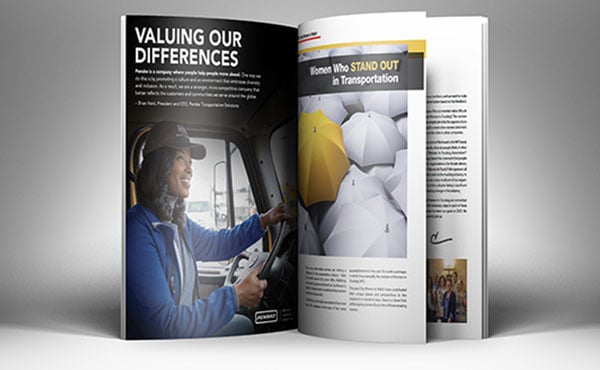 This article was originally featured in Edition 1 of 2021 in our official magazine, Redefining The Road.
Like this kind of content?
As a member of the Women In Trucking Association, stay on top of emerging trends and business issues impacting transportation, logistics, and supply chain operations, learn the importance of gender diversity in the workplace and the need for more women drivers, and see best practices in encouraging the employment of women in the trucking industry. Learn More