TruckTractorTrailer.com Levels Field for Women
by TruckTractorTrailer.com | Sponsored Content, on Apr 21, 2021 8:50:31 AM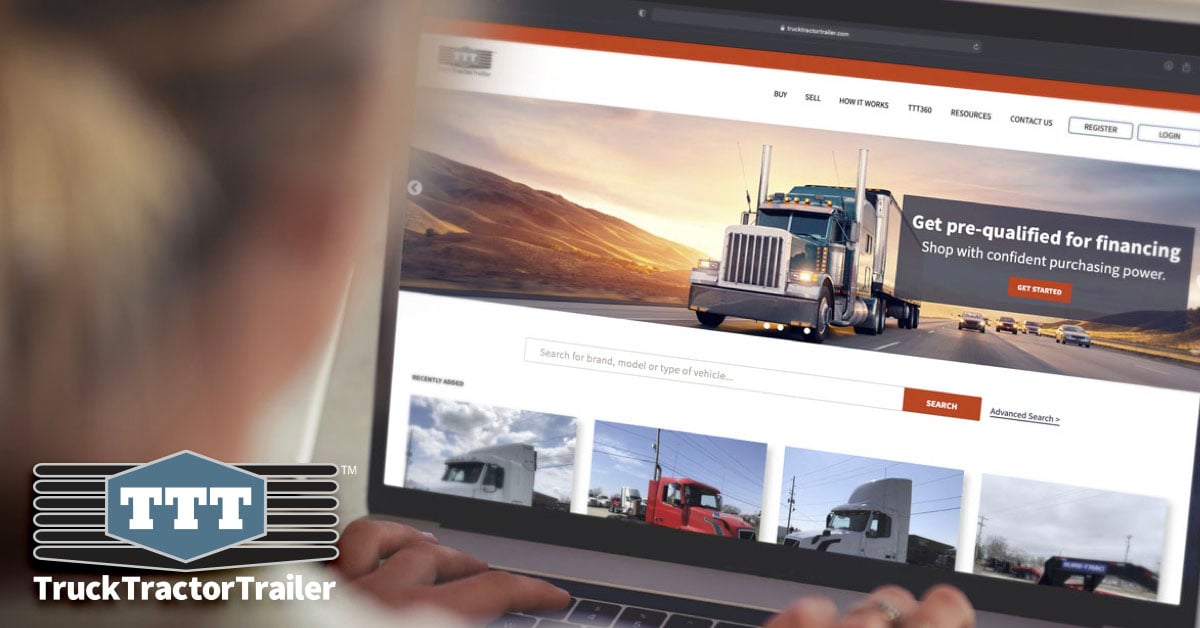 The August 12, 1994 issue of The New York Times, appropriately titled "Internet is Open," chronicled the sale between two friends of a music CD. Since that small and unwittingly paradigm shifting transaction, the e-commerce age has been gaining exponential inertia. As if it wasn't growing at a breakneck enough speed already, the Covid-19 global pandemic threw diesel on the e-commerce bonfire, accelerating the adoption of technology, tools, and all things e-commerce. It fueled a consumer adoption rate which took mere months instead of years.
A new way.
Meanwhile, behind the scenes with Nostradamus-like foresight, a visionary group of entrepreneurs were toiling away developing a new best-in-class e-commerce marketplace for used trucks. They set aside dated ways and built a new platform from the ground up. The public release couldn't have been timed any better. They dubbed it TTTExchange, and you'll find it at TruckTractorTrailer.com (TTT). As the e-commerce wave continues to crescendo, the site is ready for primetime. The TTTExchange was created from a need for a better, more efficient way to buy and sell used trucks, tractors and trailers. The TTT team reimagined, reengineered, and constructed a new e-commerce platform unlike anything previously available – a complete start-to-finish solution in one place. In the TTTExchange universe, financing, inspection, warranty, insurance, and delivery happen on one site. It is the only one-stop shop for buyers and sellers anywhere, any time, and on any device.
Leveling the playing field for women.
Used truck buyers care about access, and more specifically, fair and equitable access. The TTTExchange was built to level the playing field for all buyers. Women may benefit from the leveling of the playing field more than others because the transaction is based on data and not gender. Historically, buying or selling equipment has been more of a challenge for women than for their male counterparts. TTT is proud of this leveling feature, and feels it is long overdue for women looking to purchase one or more pieces of equipment. No buyer wants to deal with middle agents or aggressive salespeople. They want to negotiate directly with sellers, and they want to negotiate on a level playing field regardless of gender. This empowers the buyer and is an underpinning of the TTTExchange.
Trust and transparency.
Another key factor in the buyer journey is trust and transparency. It's a large country, and when the truck that catches a buyer's eye isn't geographically nearby and the buyer can't physically kick the tires, TTT has buyers covered. They enlisted the expertise of world-class partners in mechanical inspections as an additional service. They call the service TTT360+. It provides peace of mind for buyers and an easy way for sellers to build credibility. Their team of on-site inspectors detail every aspect of each listing and perform an exhaustive checklist of the operational and cosmetic integrity of a vehicle.
Confidence.
Buyer confidence comes through this certification process and also enables financing and extended warranties on the vehicles that qualify. TTT offers secure escrow transactions complete with a buyer representative to help with any and all steps along the buyer arc. They add additional purchasing power because of the finance partners who can help buyers find the perfect option to suit their needs. Additionally, if buyers don't see exactly what they're in the market for, they can create a Wish List which broadcasts what they're looking for and then get notified when a match is found. How could this be any easier? Well, it all happens on one dashboard where buyers control, manage, and track all their activities in one place. It puts buyers in the driver seat, a place where they are very comfortable.
Built for buyers:
• Make an offer
• Get notifications anytime, anywhere and on any device
• Easily track all your activity on the Buyer Dashboard
• Ask the seller a question directly
• Look for the TTT360 and TTT360+ logos for a certified listing
• Create a Wish List to get notified when matching inventory is uploaded
The yin to the yang.
It's only half a solution without an inventory to attract buyers. TTT is connected with several of the largest trucking associations, including Women in Trucking, that allows for a rapidly growing audience of owner-operators, fleet, wholesale and independent buyers to actively browse inventory and transact in real-time on their platform. Sellers are immediately notified of offers and have the ability to accept, decline or counteroffer with the click of a button. "Brick and mortar" auctions and traditional publications are outdated, time-bound, involve significant cost and provide very little ROI. On the TTTExchange, sellers can conveniently list their trucks from anywhere, using a computer, tablet, or smartphone — saving time and money to conduct their everyday business.
Seller customer service is a top priority.
Sellers have unfettered access to the TTT Concierge Team, led by Heather Bouma. The Concierge Team understands the value of the assets and helps sellers get the best out of their listing, and provides the data sellers need to move assets more efficiently. The Concierge Team is available at every step of the seller journey.
Built for sellers:
• Pre-qualified, active buyers
• Listing options for every budget whether you're selling 1 or 1000 vehicles
• Concierge Team helps you get the most out of your listings
• Cloud-based platform lets you conveniently list your truck from anywhere, anytime, from any device
The future is bright.
In this new e-centric world, where data, technology and connectivity are enabling smarter ways to do business, we're delighted to see technologists turn their attention to the trucking industry and create platforms, communities and tools to better serve the hardworking women and men who drive our economy.
This article is sponsored by TruckTractorTrailer.com. Click here to view the original article