Why They're Pursuing a Career in Transportation
by Women In Trucking Staff, on Sep 30, 2020 11:34:36 AM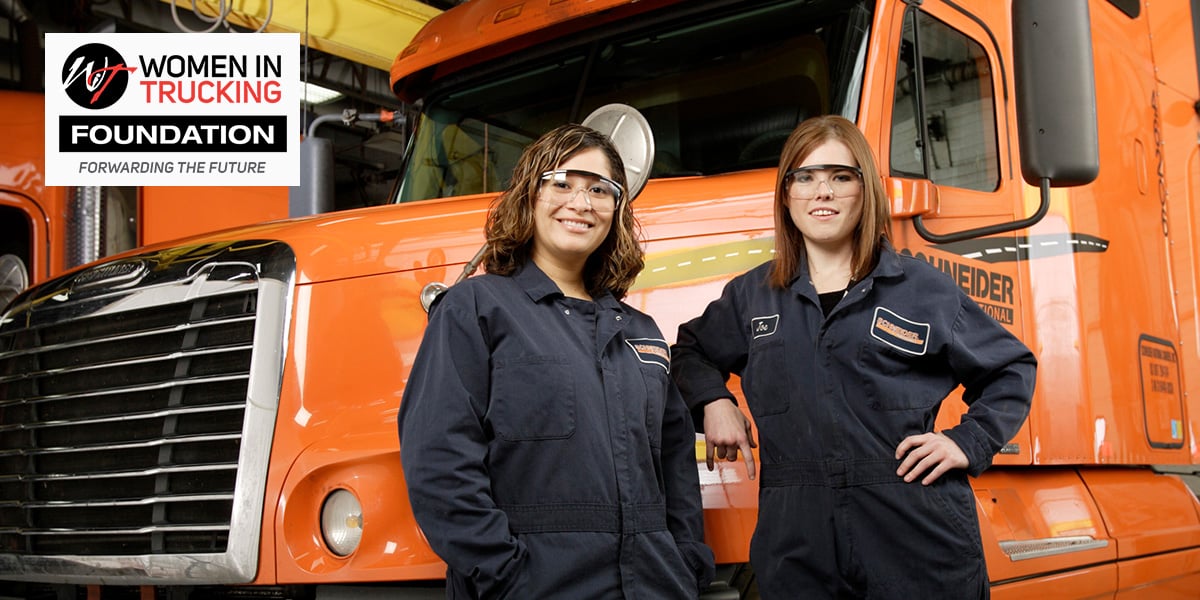 Founded in 2011, the Women In Trucking Foundation raises funds to make scholarships available in the trucking industry in the fields of Safety, Driving, Technical and Leadership. The non-profit's core mission is to help turns jobs into careers through education and training. Currently, the Foundation is accepting applications for the Fall scholarships through October, 31, 2020. Learn More
Meet the latest scholarship recipients & why they're pursuing a career in transportation
SHANIKA HINES - DRIVING
I am currently a student at New England Tractor Trailer Training School (Nettts) in Somers, Ct. I'm determined to become a truck driver in an industry that is male dominated. I'm very excited for the future and I was extremely proud of seeing more women choose to be in the trucking industry. It really opened my eyes and made me confident to pursue my dream.
SABRINA GODWIN - TECHNICAL
I find it to be a very important task, keeping trucks moving, keeping the road safe for truckers, and commuters alike, keeping people working, and helping ensure freight makes to its destination. Technicians who work on vocational vehicles touch so many lives. I wanted to be a part of that oh-so-important task. Keeping the world moving.
LAKESHA HOOVER - DRIVING
I decided to go back to school to become a professional Truck Driver because I'm looking for a career not just a job. I want to do something I enjoy and provide for my family at the same time. It will be a great experience for me and I will be able to travel and meet new people, which will be a lot of fun as well.
KIMBERLY HOOK - DRIVING
My husband has been a driver for 26 years and I have been with him for 10 of those years. I love being on the road and the drivers I have met have been a great group of people. I enjoy the freedom and the lifestyle of travelling.
KRISTI BARRON - LEADERSHIP
The trucking industry has been a staple in the United States for many years. It's an important part of our economy. I want to be part of the trucking legacy that made the USA what it is today. I hope to gain my MBA so I can move forward and show my leadership capabilities. I plan to push myself and co-workers to better the industry, our company, and ourselves.
KATHERINE FLAMANG-FIELD - DRIVING
I have worked in the field of education for over 30 years and I am considering a career change. I still love what I do but I want to explore other life experiences in the near future. I know that trucking can have many different paths to explore and excel in. I enjoy driving and traveling and I am not afraid to take on new challenges.
MARY BETH RADDATZ - DRIVING
I'm very excited to be able to make my long-time dream come true. 20 years ago when my children were young, I became a school bus driver and enjoyed the learning experience, the job itself, and the chance to be close to my children. My son started a grain hauling business and asked if I would like to drive for him. I will be finished with my classes just in time to begin spring corn hauling.
ADRIANNA ISBELL - TECHNICAL
I have chosen a career in civil engineering, specifically transportation, because it seems to have one of the most direct impacts on people's lives. With technology developing at such a rapid rate, the need for efficient and thoughtful planning is in need now more than ever. Transportation engineering seems to be the best way to fulfill all of my career goals.
JULIA MAZZA - TECHNICAL
The passion I have acquired was spurred from my hunger to learn about trucks; to know how they work, their functions and capabilities and being able to perform diagnosis. Pursuing this technical education will further my career dreams of being a diesel technician.
ESTHER NAMATOVU - LEADERSHIP
Due to the endurance I have for becoming a better and more useful person in my community, an education in the trucking industry has given me a second chance in life. I plan to have an outreach program for female truck drivers, so that I know how to guide women in trucking and keep them in the industry.
HEATHER PINTER - DRIVING
I first started out curious of the idea of me driving semis as I have friends in the field. My plan is to own my own truck or possibly fleet of trucks. I'll start by driving for a reputable company where I can grow as an individual, learn the business and buy my first truck.
MONICA WELLINGTON - DRIVING
I have spent most of my life working in corporate America and I am ready to leave the stress of that environment behind me. I see life differently now and have decided to pursue something I love - driving! I now know that it is more important to have a job where I am not consumed by work, where I have work life balance, so I have chosen a career in trucking as a new start in life.
KATHLEEN LARSON - DRIVING
I have been exposed to the trucking industry for over 40 yrs. My husband is a driver and I have made many trips with him as time allowed between work and raising a family. I would like to be able to go with my husband as a team driver now that the kids are grown, my husband's company has agreed to waive the 2 year experience requirement as soon as I complete the certification.
KENYA STEWART - LEADERSHIP
I chose to follow my career in truck driving because several women in my family are successful owner operators, I want to be financially independent, and I wanted to step out of my comfort zone to find a new career. I want to be a role model not only for the young women in my family but also for other women around the world. Allowing women to know that the trucking industry is not only a man's job but also a growing career for women.
HANNAH MATICH - DRIVING
I have been around the trucking industry since the day I was born. I will be the fourth generation in my family to pursue a career in the industry and I want to be a role model for other women in the future and show them you can do whatever you chosen in spite of the obstacles you may face. I also would like to start my own business for women truck drivers and inspire them to follow their dreams.
SABRINA DEPUE - TECHNICAL
I fell in love with diesel technology when I was younger. Several people I knew worked on them for recreational purposes and I loved helping out. I didn't have the confidence I could do it even though I loved it, but I dove in head first and I have never looked back. I plan to achieve my degree in diesel technology by the end of this year and eventually show my strength and smarts to those around me so they will have full confidence in my abilities.
Interested in learning more about the scholarship program or applying? Learn More