Women in Trucking at Ruan
by Ruan | Sponsored Content, on Jun 30, 2021 7:00:00 AM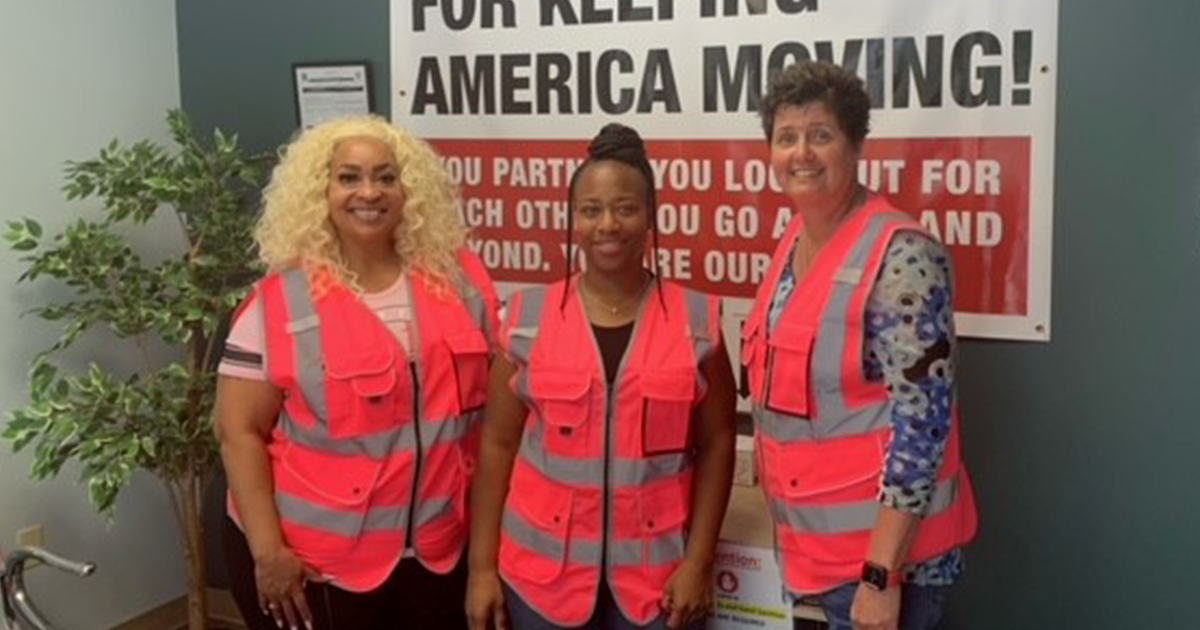 Pictured from left to right: Lisa, Born, and Angie
Female drivers make up about 10 percent of the professional driver workforce. But being a professional driver provides many women with the same advantages as men—independence, flexibility, and an opportunity to earn great pay. Along the East Coast, Ruan supports our dedicated customer, Publix Super Markets, and many female drivers are committed to hauling the freight.
Angie Way is the Dedicated Operations Leader for this account based in Dacula, GA, and has been involved in the transportation industry for 28 years. She oversees 400 professional drivers and 42 office staff on the account while also maintaining the relationship with our customer. She is always there as a resource for drivers and ensures their voices are heard.
"Having a dedicated customer that recognizes you as a professional driver compared to the over-the-road driver who they see once a year is a huge benefit," Way said. "We are committed to our People First Guiding Principle, and our customer recognizes us as not only a partner, but also as individual team members. There is consistency in our work and where we go, which is very appealing to female drivers."
A huge component of truck driving in today's world is safety. This applies not only on the road, but off the road as well.
"Our professional drivers must be aware of their surroundings. Drivers on this account go to the same truck stop at the same times each week. The people at these truck stops recognize our drivers and know they are associated with that Ruan truck, which gives that extra stability and safety. For our Publix account specifically, we know our drivers have a safe place to sleep," Way said. "All Publix stores have cameras, and when needed, their staff will tell our drivers where to park the truck and where to sleep so that our drivers are safe."
An attractive factor when drivers are considering a new opportunity is their home time. On this account, drivers have routes that allow them frequent home time, which provides a great work-life balance.
We had the opportunity to interview two of our women drivers on our Publix account who value safety, personal relationships, and home time while working for Ruan.
First up is Lisa, who has been in the industry for 15 years and has driven for Ruan for two years.
Tell us about your career path.
I started out in nursing school and was going to be an RN. I grew up on Lake Erie in Buffalo, NY, and I always saw trucks on the pier. I said, "One day, I'm going to drive one of those." People would laugh at me and say, "Girls don't drive trucks." One day at a truck stop, I saw a woman hop out of a truck and was overwhelmed because women do drive trucks. I went up to her and asked her questions about her career. Then I went to truck driving school and have had no regrets since.
What do you like about Ruan?
I like how they treat you like family. The last company that I drove for is about the same size as Ruan, but they treated me like a number. Each time I called in, I had to say my number. It was so industrial, and there were no warm feelings. Ruan addresses me by my name, and it honestly feels so good to hear "Hello, Lisa." Also, at my old company, I never knew my terminal manager in the 11 years I was there. At Ruan, everyone's door is open, and everyone in the office knows your name.
How does your job at Ruan differ from other driving jobs you've had?
The way Ruan is set up is so organized. There is also good communication, and you receive so much respect. Ruan made me feel like I was an essential worker before the pandemic entered our lives. We are truly thanked every day for the work we do.
The home time is also great. Before working at Ruan, my landlord told me at one point that he felt guilty taking my money because I was never there. Now I'm there all the time, and he thought I lost my job. I said, "I'm working but I'm not working for them anymore."
What do you like to do in your free time?
I like to spend time with my family, and that's something that I get to do because of this account. You're not married to the truck at Ruan. I remember being away for months at my old company, and they could never grant my time off. Ruan ensures that you get home and are not disturbed while you're at home. On my days off, my sister and I love to eat.
Next, meet Born, who has been in the industry for 14 years and is in her third year with Ruan.
Tell us about your career path.
I was working in health care as a claims builder for over 15 years and got burnt out. I had wanted to drive trucks for a while but was hesitant. My ex-boyfriend wanted to drive too, and I always gave him newspaper articles that I came across of where he could drive. Once he started driving, I rode with him and wanted to drive as well. I started working for a trucking company and went to a driver training school through them. I was with them for six years.
I've driven for several independent companies, and they didn't treat me well. I also drove for an owner operator, and it was good for a while but then it didn't work out.
Then I went to Craigslist and I saw a posting for Ruan. My family was in South Carolina and I saw routes ran there in the job description and saw it was for Publix. Everything really worked out for me on this account. At Publix, all the store managers know you, they know you by name, and it makes you feel good.
Interested in a great career with Ruan? We have jobs built for women drivers. Whether you want to be home each day or want to be on the road for a little longer, we have jobs that will fit your lifestyle. Visit ruan.com/jobs and join the Ruan family today.